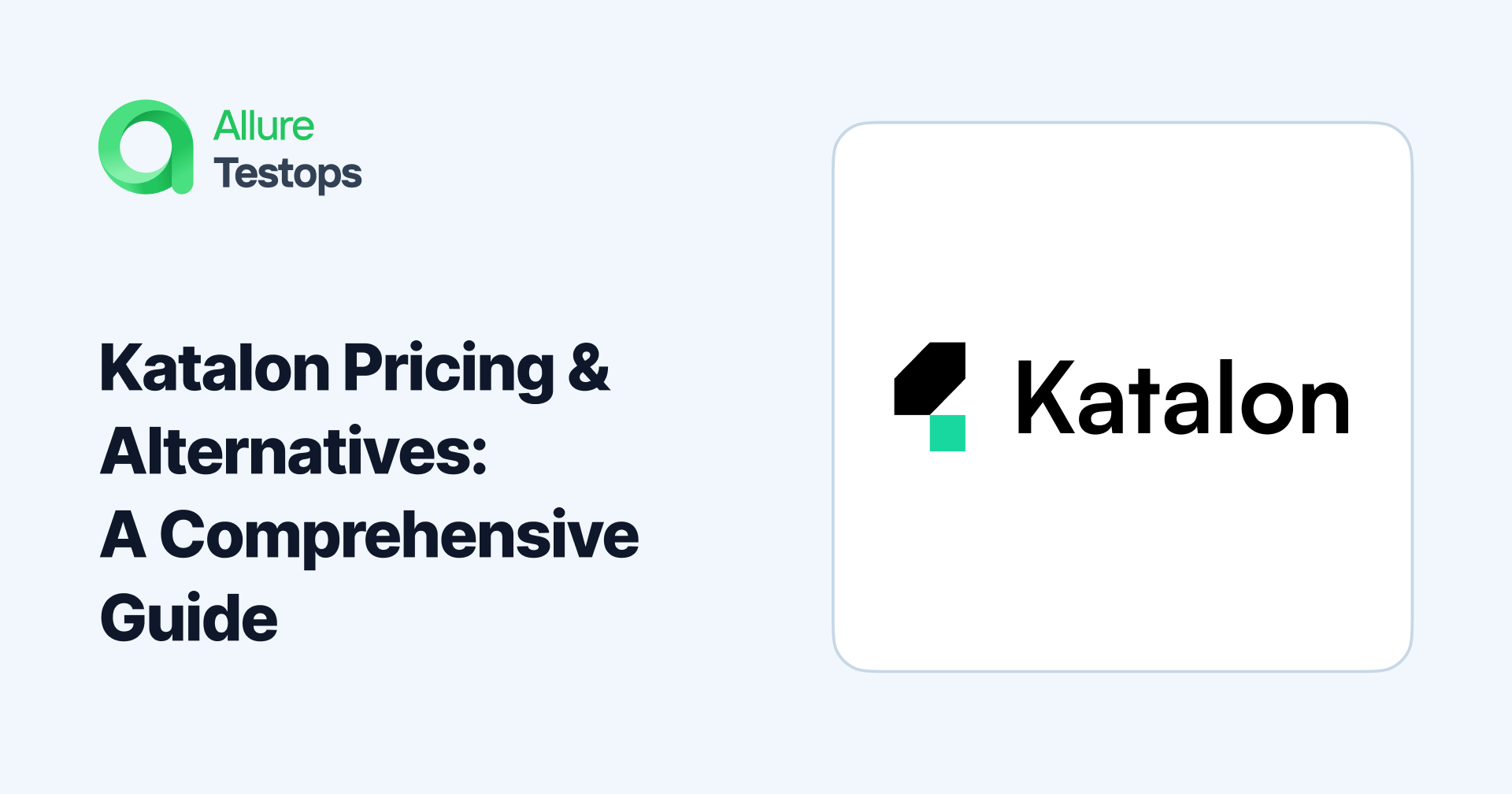 Katalon Pricing and Alternatives: A comprehensive Guide
Quality management platforms have revolutionized the software testing process for tech industries. They come with a range of tools and features to help teams manage the quality of their applications from inception to launch.
The software testing process has recently advanced to a new level with AI-based manual testing generation and execution. Hence, tech companies can now leverage the power of artificial intelligence to produce faster, more efficient, and more accurate testing results.
Moreover, AI-based manual testing generation and execution helps teams save significant time and resources in creating and executing tests. It also helps reduce the risk of human error. AI algorithms can analyze the application's features and functions and identify potential issues with the application. One of the most popular platforms in this category is Katalon Studio.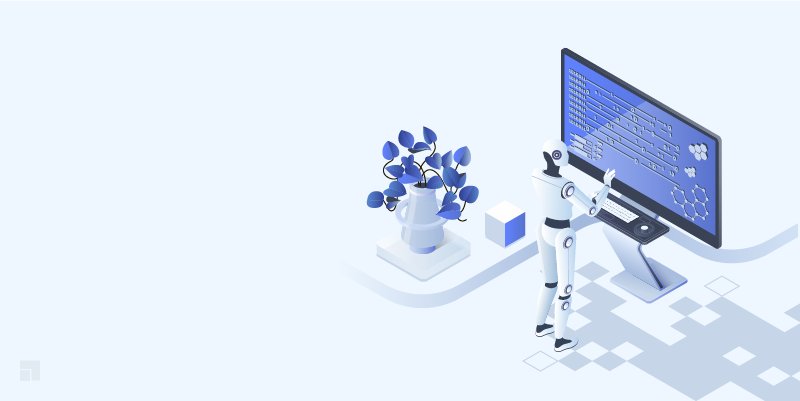 What Is Katalon Studio?
Katalon Studio is a comprehensive quality management platform designed to help businesses deliver world-class digital experiences to their customers. It is a popular AI-augmented platform that uses artificial intelligence to help users plan, author, and execute automated tests. Moreover, it has a user-friendly interface that makes it easier for non-technical users to create and run automated tests without coding knowledge.
The AI-augmented platform supports multiple programming languages and seamlessly integrates with other popular tools for end-to-end testing capabilities. Hence, Katalon aims to improve the speed and accuracy of an organization's testing processes while reducing the costs associated with manual testing.
Additionally, Katalon Studio helps users identify defects and performance issues before they impact the end-user experience. Therefore, it allows organizations to ensure that their digital products are of the highest quality and on par with customer expectations.
Features of Katalon Studio
Katalon Studio offers a range of features to help organizations plan, author, organize, execute, and analyze their automated tests. To expand on them further, its key features include the following: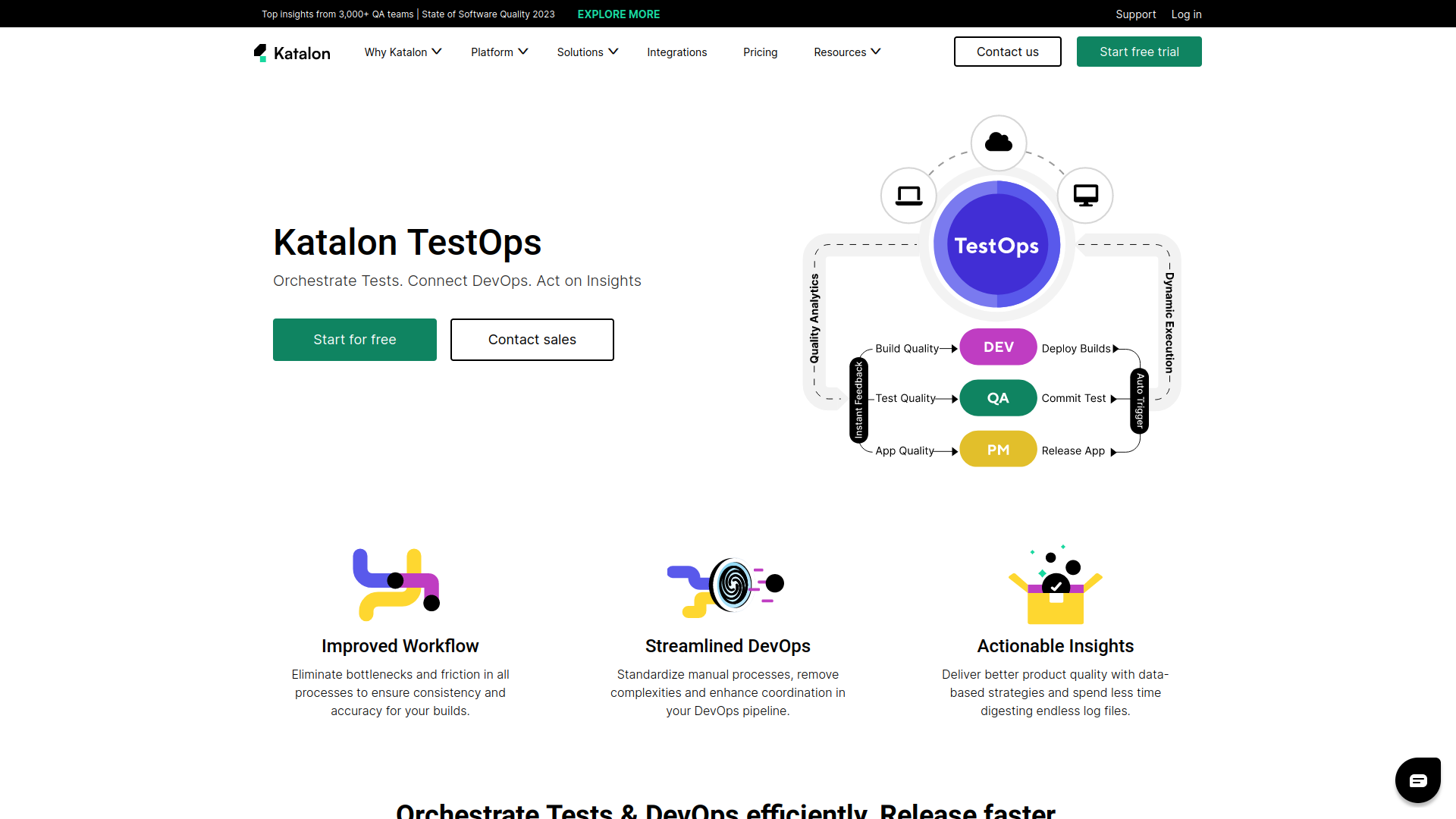 Plan: Katalon Studio helps users align their requirements and testing strategy to quality assurance at all times. It can connect TestOps to project requirements, business logic, and release planning. Hence, users can optimize test coverage and run the right tests simultaneously with dynamic test suites and smart scheduling.

Author: Users can create tests in just a few minutes with Katalon Studio. It balances low-code ease along with full-code flexibility. Hence, it makes it easy for users to adapt to the platform quickly. Moreover, users can record and playback real-world scenarios and efficiently auto-capture test objects, properties, and locators.

Organize: With the help of TestOps, Katalon Studio enables users to build a quality command center. They can organize test artifacts in one place, including test cases, test suites, environments, objects, and profiles. It also allows users to map automated tests to existing manual tests with one-click integrations to tools like X-ray and Jira.

Execute: Katalon Studio provides test environments for both web and mobile applications. Hence, TestCloud's on-demand environment makes running tests in parallel across browsers, devices, and operating systems easy. The platform also takes care of setup and maintenance, and the Runtime Engine helps streamline execution in the user's environment with smart wait, self-healing, scheduling, and parallel execution.

Analyze: Users can understand failures by auto-detecting assertions and zoom in with rich execution views with real-time visibility and actionable insights. Katalon Studio also offers coverage, release, flakiness, pass/fail trend reports, real-time notifications, and 360-degree visibility in TestOps. Hence, it helps make faster, clearer, and data-driven decision-making.

Built-in AI Augmentation: Katalon has self-healing and suggests alternative locator methods if the default option fails to find elements. Moreover, it can speed up manual UI scanning error-prone pixel comparison with content and layout-based methods. Hence, test failure analysis makes root cause analysis more efficient by finding similar failures from previous execution results.
Benefits of Katalon Studio
So, how can Katalon Studio benefit an organization? Look at the following benefits to learn how it streamlines their testing processes:
Flexible Test Creation. Katalon allows users to create automated tests using no-code, low-code, or full-code options. Moreover, users can choose to record, playback, drag-and-drop to create automated tests, or use script mode to build custom keywords and actions.

Unified IDE. With the help of a unified IDE to test all apps, Katalon offers a complete library of web, mobile, API, and desktop keywords. It helps users to test all aspects of their applications in one place.

Flexible Deployment. Users can conduct test operations with various deployment options, including SaaS, on-prem, or hybrid. It helps ensure that users meet industry privacy regulations and choose the deployment model that best suits their needs and requirements.

Holistic End-to-End Visibility. Katalon helps improve testing processes and software quality with holistic end-to-end visibility. Hence, users can loop in managers and business stakeholders and monitor testing processes and enable quality assurance in real-time to ensure everyone is on the same page.

Low-Cost, High ROI. Katalon aims to offer a low-cost, high-ROI solution for testing applications. Users can start for free and choose from flexible pricing as they grow. It guarantees high ROI by consolidating tools, minimizing overhead, reducing defects, and saving time.
Katalon Pricing & Reviews
Whether you're a small team or a global enterprise, Katalon has flexible plans to meet your requirements. Here's a quick overview of Katalon pricing plans: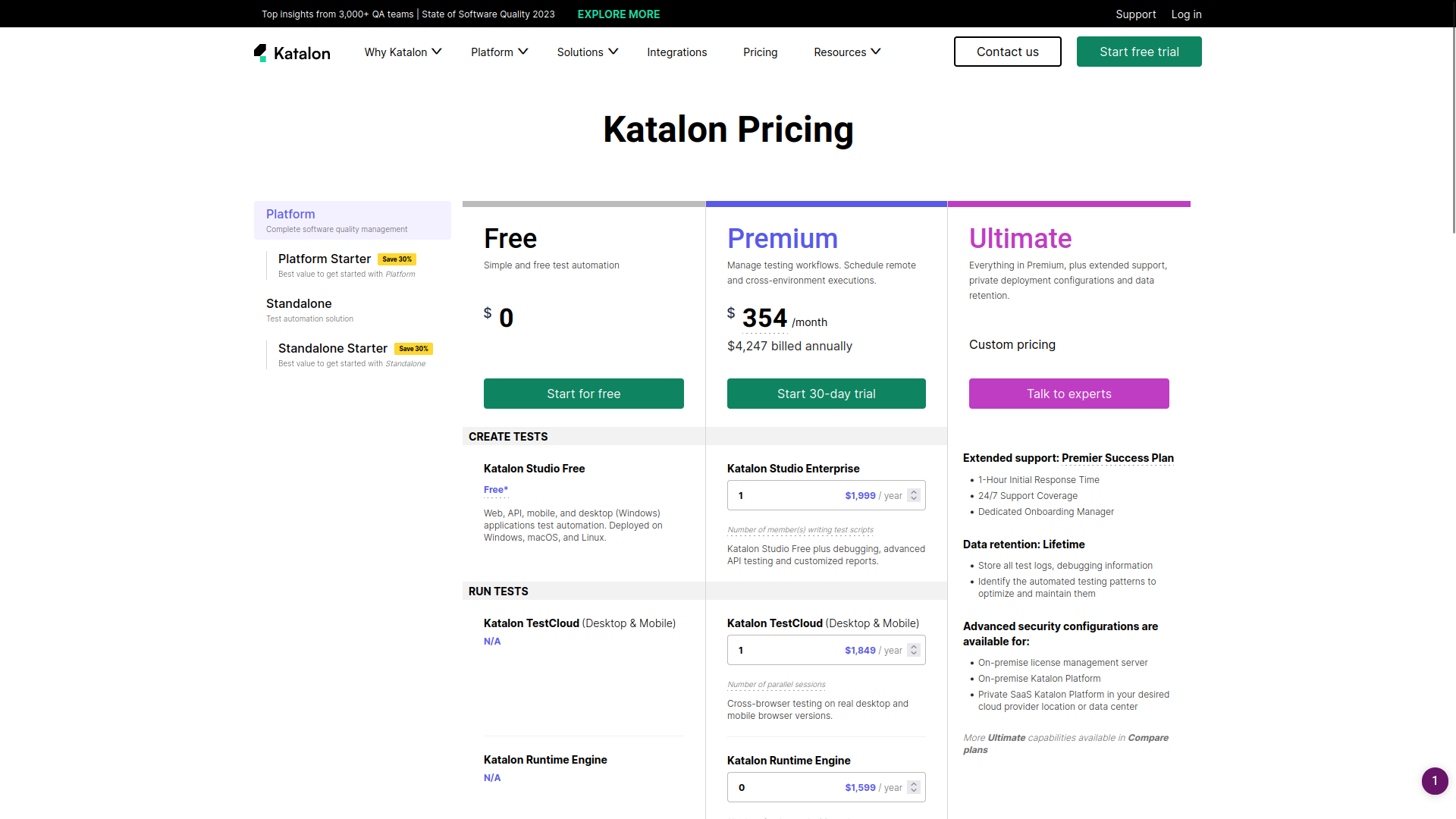 The free version is designed for users learning, experimenting, or starting with the Katalon. It includes 2,000 monthly test results, which can be used to test various applications and scenarios. It also allows up to 5 platform users, one organization, and three active projects, providing a solid foundation for DevOps and software teams. Additionally, the free plan offers six months of data retention, ensuring users can track their testing progress over time.
Moreover, the free plan also includes access to Katalon Studio and Katalon's free test automation tool. It allows users to create and execute automated tests with ease. Users can avail of a free trial of Katalon TestCloud, which offers on-demand testing environments and parallel testing capabilities.
Katalon's premium plan is designed for production-grade testing workloads and offers a range of features to support large teams' architecture and organizations. The price starts at $25 per month, with annual billing of $299, and is one of the best Katalon pricing plans.
Compared to the free plan, the premium plan offers 3,500 monthly test results, ensuring ample testing capacity for demanding workloads. It also allows unlimited platform users, one organization, and up to 10 active projects. Hence, it offers a robust testing environment for large teams.
Additionally, the premium plan includes 12 months of data retention that allows teams to track their testing progress over a longer period. The Premium Plan offers additional access to various products, including Katalon Studio Enterprise, Katalon TestCloud, Katalon Runtime Engine, and Visual Testing Professional.
Lastly, the ultimate plan is designed for enterprises with mission-critical testing workloads. It has various advanced features and benefits to help businesses achieve their testing goals. Moreover, the price depends on the features required by the organization. Hence, they can get only the required features for their money.
Comparatively, the ultimate plan offers a high monthly test results limit of 30,000. Hence, this Katalon pricing plan is an ideal choice for large organizations with high testing requirements. It also supports unlimited platform users, organizations, and active projects. Thus, it offers maximum flexibility and scalability.
Additionally, the ultimate plan offers lifetime data retention to ensure businesses can access historical testing data whenever required. It also offers additional products such as Katalon Studio Enterprise, Katalon TestCloud, Katalon Runtime Engine, and Visual Testing Professional, which can be added to the Ultimate Plan for an additional cost.
Why Do You Need to Consider Alternatives for Katalon?
Like any other platform, Katalon has its fair share of drawbacks and lacks features that may not meet your needs. Users have faced certain demerits and issues, such as troubleshooting, which can be frustrating. Another drawback of Katalon is the inability to debug code.
Whenever a code error occurs, it simply moves on to the next line without providing information. As a result, it makes it difficult for users to identify and correct errors. Some other concerns include lags and other bugs that can impact your productivity. Also, Katalon has a small community, making it difficult for users to find solutions to specific problems.
Another aspect is the Katalon pricing plans. There are other similar tools that offer far more value-adding pricing plans with multiple billing options.
Top 5 Alternatives to Katalon
Businesses should research and look for alternatives before finalizing a solution. Here, you can check out the top 5 alternatives for Katalon to see if they meet your specific needs and requirements and if they are available within your budget:
1. Allure TestOps by Qameta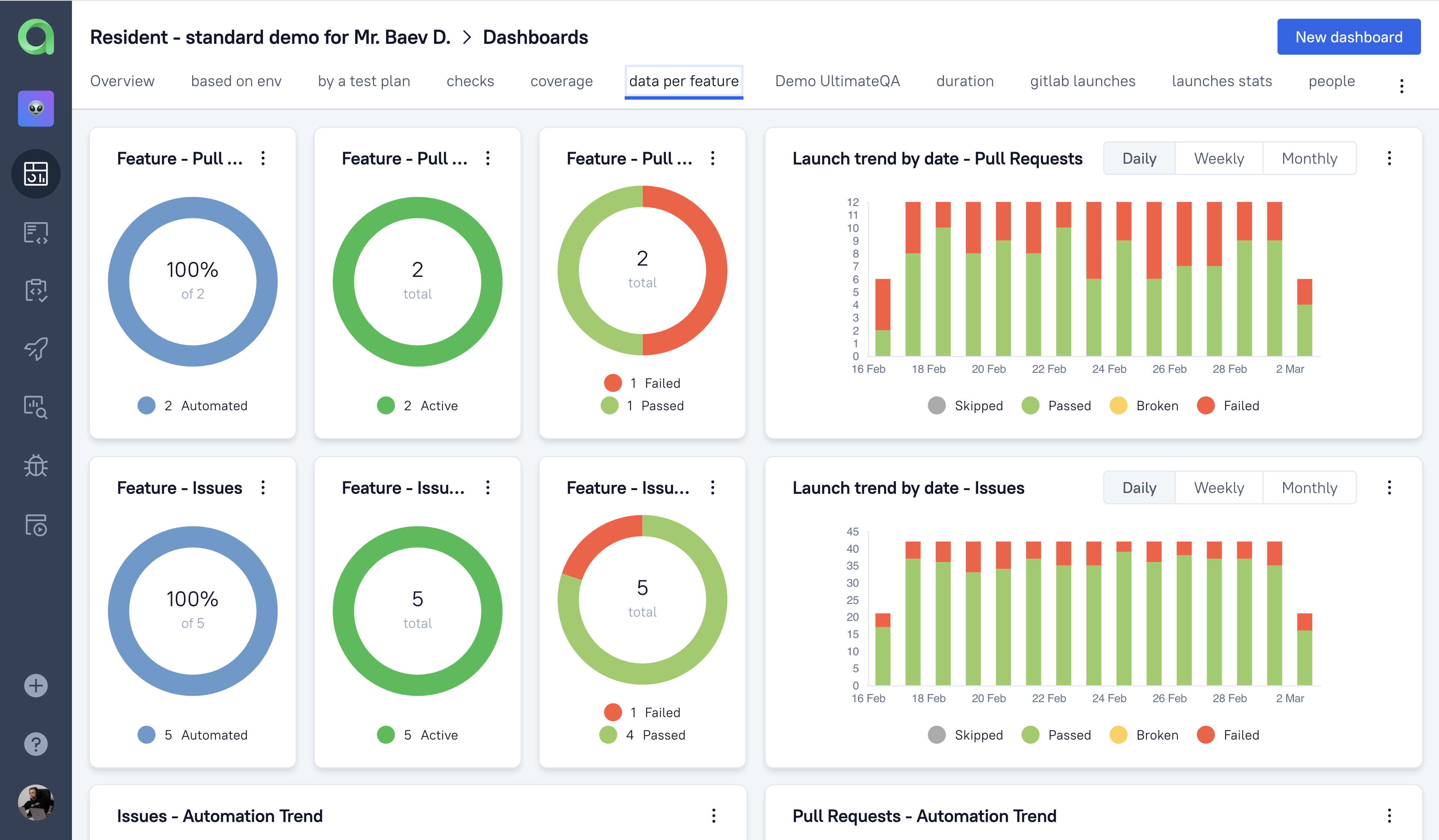 Allure TestOps is a software quality management platform that combines automated and manual testing to help teams increase product quality control and boost productivity via TestOps. It offers a centralized hub for all tests, real-time insights into test coverage, and flexibly integrates with tools like GitHub, GitLab, and IntelliJ IDEA.
Features:
Allure TestOps updates test documentation based on test run results tracking and analysis. Hence, it ensures that test cases are always up-to-date Central hub for all tests by linking manual and automated testing, Allure TestOps helps empower team productivity, reinforce and speed up the CI/CD pipeline, and offer important insights into test coverage.
Users can review a product's status, create targets, follow the process, and create their KPIs using Allure Query Language. It helps get a quick overview of the current project's progress.
Allure TestOps also offers users security, analytics, aggregation, configuration, and performance features.
Pricing:
Allure TestOps offers a scalable pricing model that fits any team's needs and requirements. It provides cloud and server options with monthly or annual billing. Their details include the following:
Starting price at $39 per month per user, the platform is hosted on Allure TestOps' infrastructure. The price becomes lesser for each additional user added to the plan. Additionally, it comes with secure AWS hosting and 60 GB of storage.
Starting price at $30 per month per user, the platform is hosted in-house on the business premises. Like the cloud plan, the price becomes less for each additional user added. Moreover, businesses will have complete control over instances with private services integration.
Allure TestOps also offers a free trial for both plans who wish to try out the platform before committing to a subscription.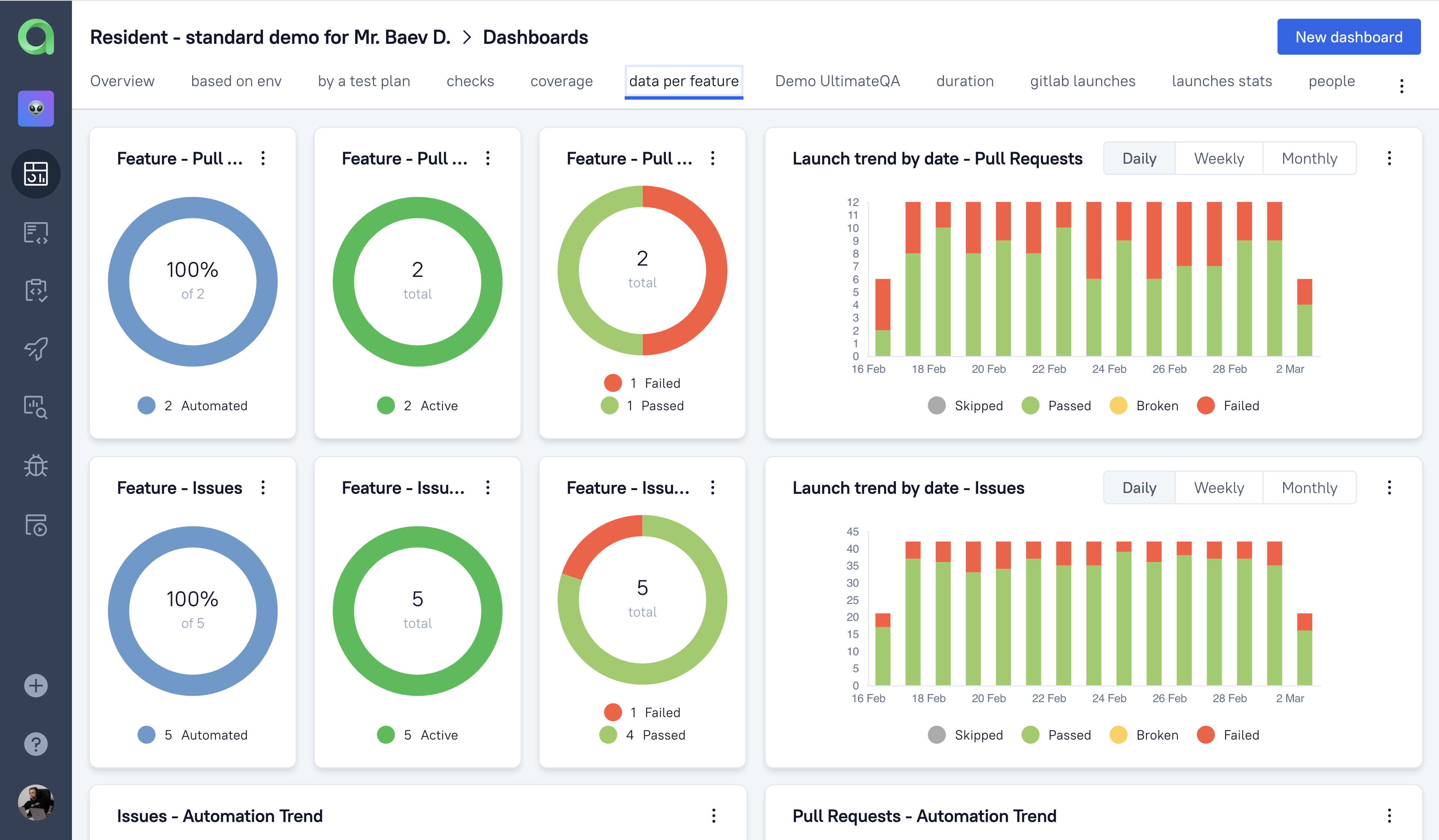 2. Ranorex
Ranorex is a functional UI test automation tool that offers intelligent test design and an unbeatable combo of low-code/no-code automation tools. Hence, it is a full-blown IDE with endless extensibility. It also provides a complete set of desktop, web browser, and mobile application automation tools. Moreover, it can easily integrate with popular DevOps tools like TestRail, Jira, and Jenkins.
Features:
Some of the main features of Ranorex include the following:
Automation tools
Integrations
Support
Quality and faster feedback
Scalability
Full development environment
Advanced functionality
Customizable test results reporting
Data-driven testing
Flexible API interface
Pricing:
Ranorex offers all-inclusive licenses with features and value for increased ROI. There are three types of licenses available for users:
This license allows users to create, edit, and execute tests. It is a single-station license bound to one physical machine and includes a standalone IDE, visual studio plug-in, Ranorex driver, and Ranorex API.
This floating license can be used on physical and virtual machines. Moreover, it includes all the features of the Studio License and allows for test execution efficiently.
This is also a floating license that can be used on physical and virtual machines. However, users must own at least one Studio or Enterprise License for test creation, and this license includes all the features for test execution.
However, all the license pricing depends on the features and value it provides for the businesses. Therefore, users need to request a quote for them.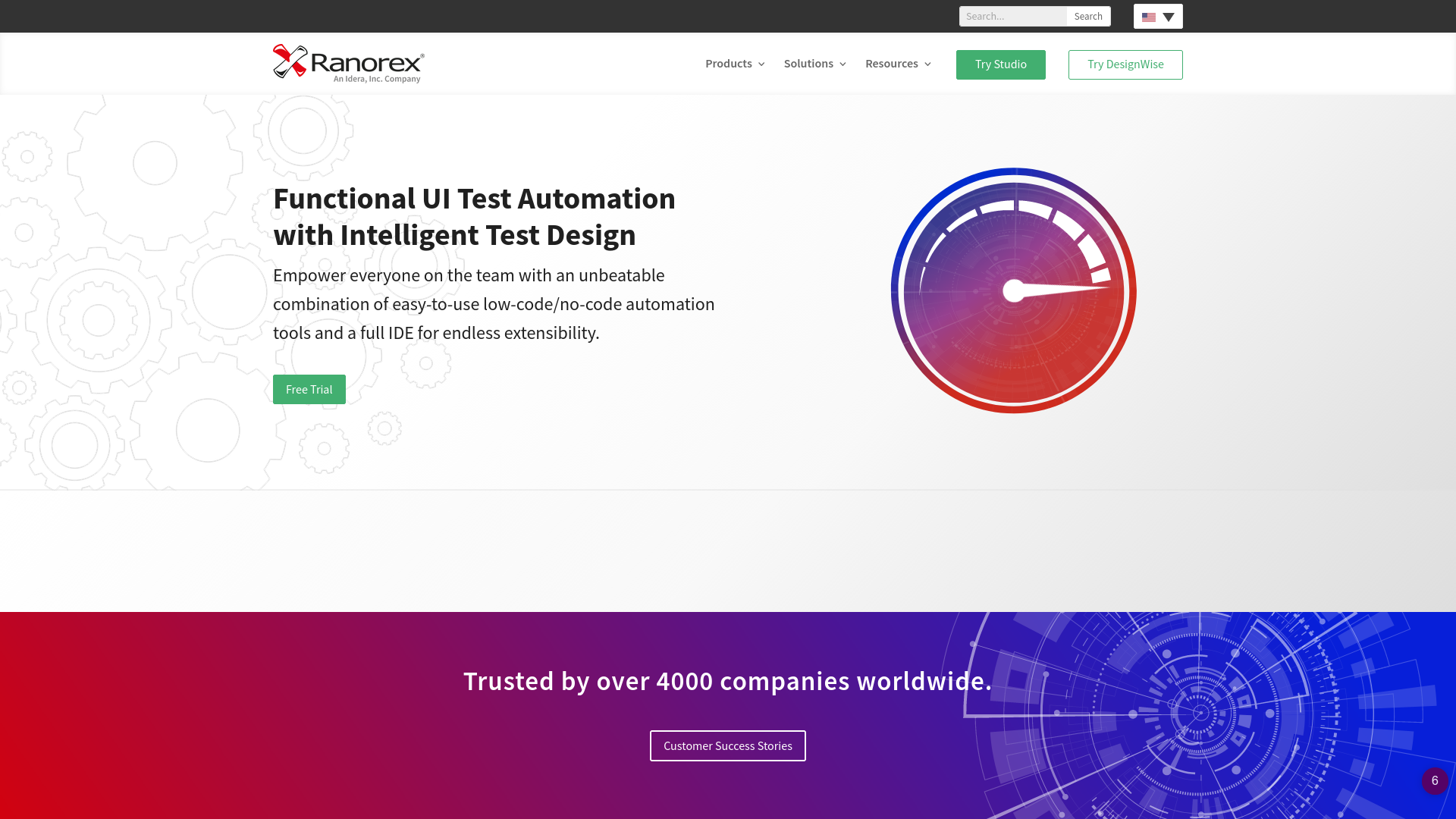 3. UiPath
UiPath is a business automation platform that helps users build and automate end-to-end infrastructure and operate, deploy, and manage automation across the enterprise. It transforms the way of working with various tools with multiple features and benefits.
Features:
Low-code development with drag-and-drop functionality that allows users to create automation workflows easily.

UI and API automation to automate tasks across desktop, web, and mobile applications, as well as APIs.

Process orchestration helps automate complex business processes that involve multiple systems and applications.

Intelligent document processing with the help of AI and machine learning to extract data from structured and unstructured documents.

Real-time analytics and reporting help users monitor their automation workflows' performance and identify improvement areas.
Pricing:
UiPath offers three plans suited for different needs and requirements:
Free: Users get access to the UiPath platform for personal development use and its capabilities for free. Moreover, users get unlimited individual automation runs, tools for designing individual automation, and best-in-class integrations with popular products.

Pro: Starting at $420 per month, it is a pre-packaged plan to make it easy for small departments and businesses to start automating. It is suitable for users looking for multiple tenants and dedicated support. It also offers other features such as bots enabling remote, on-demand execution, advanced automation design tools with user governance, and additional products to engage people for seamless process collaboration.

Enterprise: Here, the price depends on the features required, making it a flexible option for companies seeking a comprehensive platform. Users can execute automated tests and RPA workflows with Test Robots and get 100 automation express licenses as a free option.
Additionally, they will have access to additional products such as process discovery, test management, AI, and analytics for speed-to-value. UiPath also offers free trials for users to explore its features before purchasing.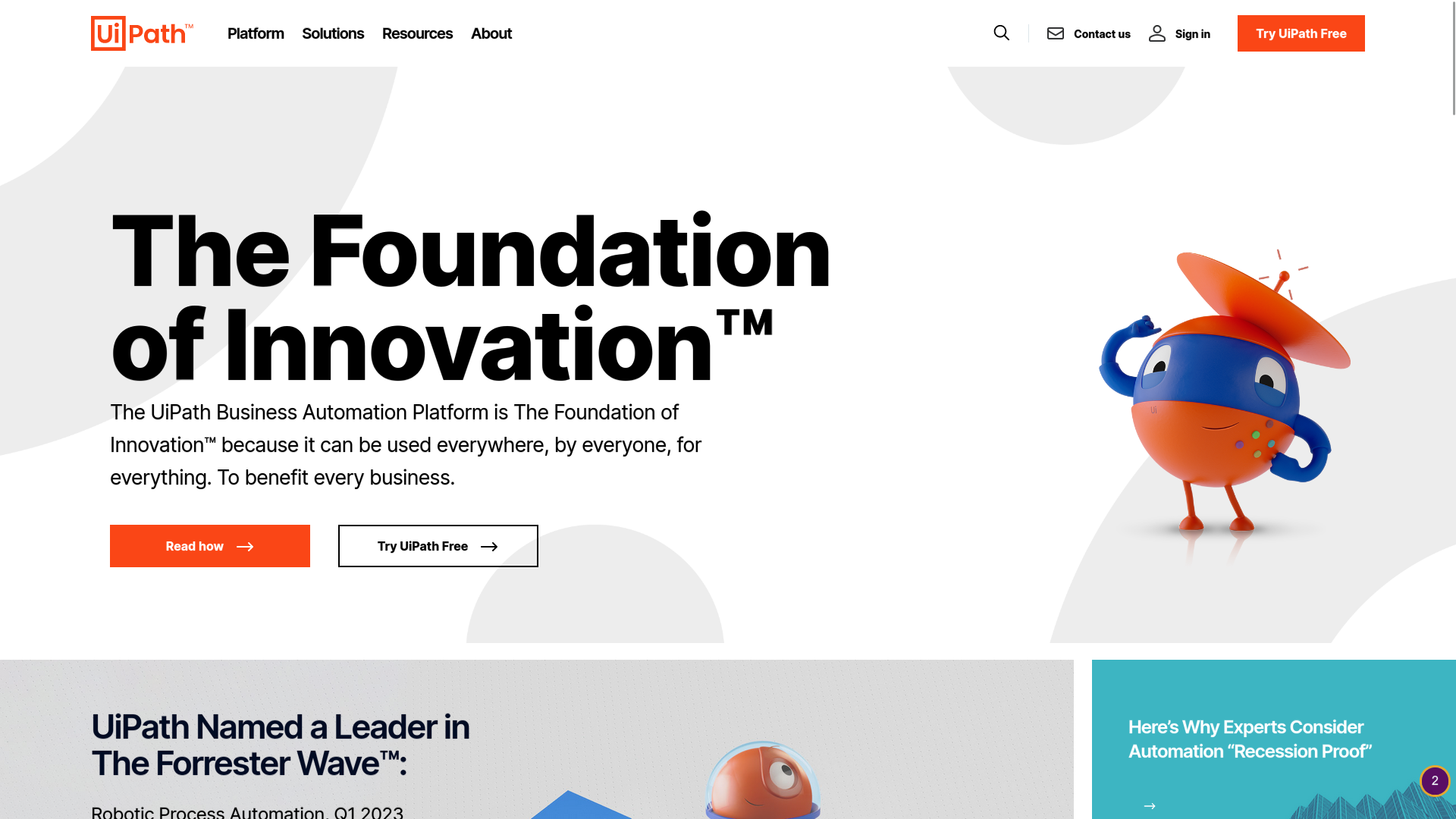 4. Tricentis
Tricentis is a continuous testing platform that aims to help businesses release applications faster, improve quality and performance, and reduce costs. It has various features that make it a great deal for high ROI.
Features:
Flexible and scalable: Tricentis is a flexible and scalable platform that can scale test automation across diverse teams, application types, and IT architectures.

Codeless options: With various codeless options, the platform makes it easy for non-technical business users and test engineers to automate tests easily.

AI-powered: Tricentis also leverages advanced ML technologies to enable faster and smarter testing.

Fast track applications: Users can easily accelerate software delivery by reducing test cycle times, reducing errors and costs, and focusing testing on what matters most. The codeless approach frees up resources for revenue-driving initiatives, increases visibility, and boosts release confidence with improved collaboration in testing activities.
Pricing:
The pricing model of Tricentis depends on the types of testing and features required by businesses. Moreover, it offers a free trial for users to try out the platform before making the final purchasing decision.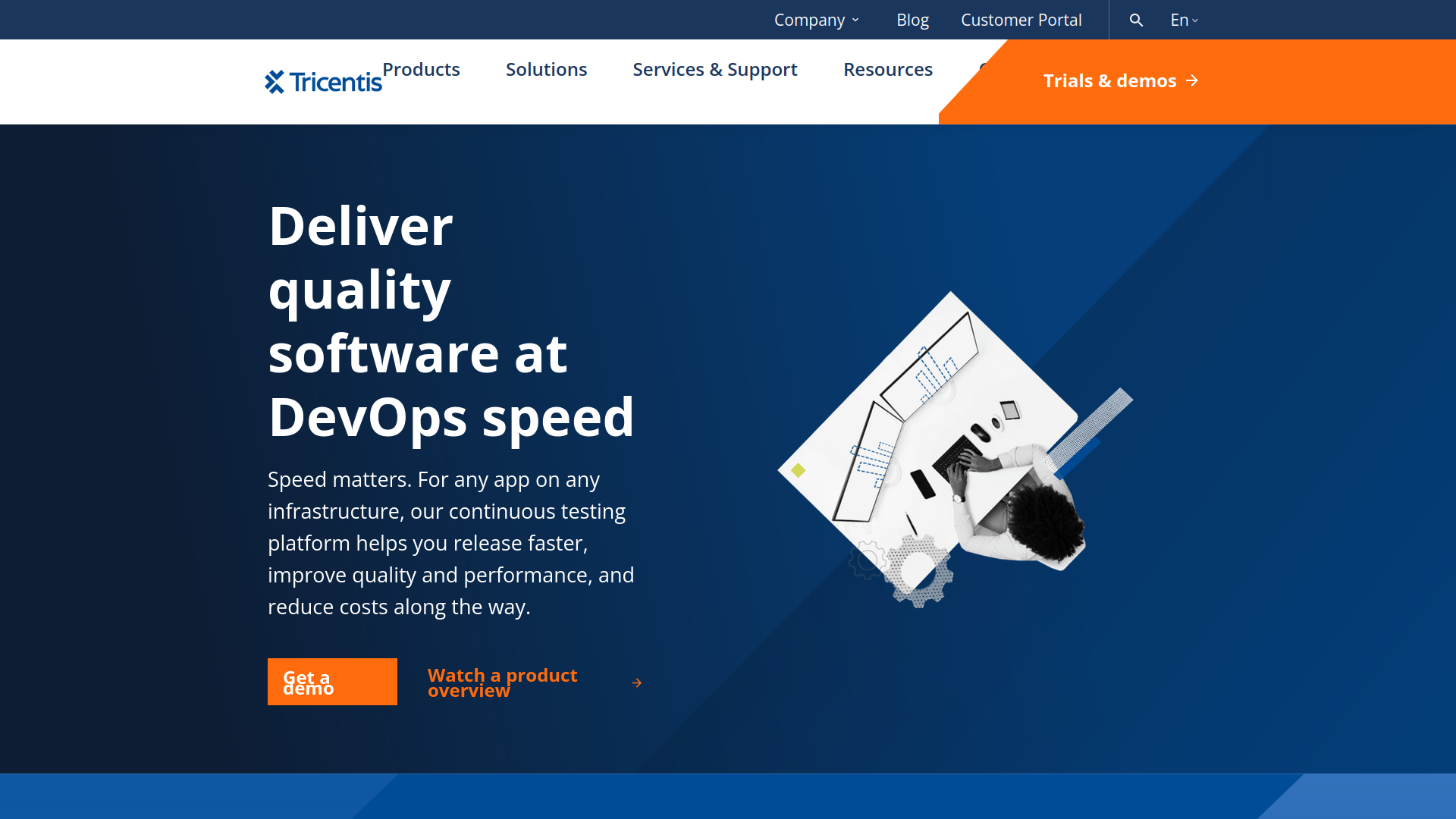 5. Perfecto
Perfecto is a cloud-based testing platform that offers secure mobile and web testing solutions. It provides end-to-end testing capabilities, including test creation, execution, and analysis, and eliminates environment concerns with test data and virtual services backed by the power of Perforce.
Features:
Test creation for all: Users can automate tests intelligently with code, scriptless, or both. It also provides high-value execution capabilities that help users execute tests in parallel across real and virtual devices and browsers.

Intelligent analysis: With the help of AI-powered insights, users can carry out all testing in one place. It helps users identify issues quickly and accurately.

Unified web and mobile testing: Perfecto allows users to test web and mobile applications in a unified testing environment. Hence, it provides comprehensive coverage of all aspects of application testing.

Eliminate dependencies: Perfecto eliminates dependencies on external systems to enable faster and more complete testing. Moreover, creating and leveraging mock services and synthetic test data for tests is easy.
Pricing:
Perfecto has four different pricing plans depending on their features and business requirements:
Live: This plan includes manual testing from anywhere, starting at $83 per month per parallel test billed annually. It includes real and virtual devices plus desktop browsers.

Automate: This plan includes automated plus manual testing, starting at $125 per month per parallel test billed annually. It includes real and virtual devices plus desktop browsers.

Scriptless: This plan includes no-code web automation and is priced based on the features and requirements.

Enterprise: This plan includes extra features, support, and security and is priced based on the features and requirements. It includes dedicated real and virtual devices plus desktop browsers.
Like other products, Perfecto offers trials for all their plans to help users decide if they want to purchase the platform.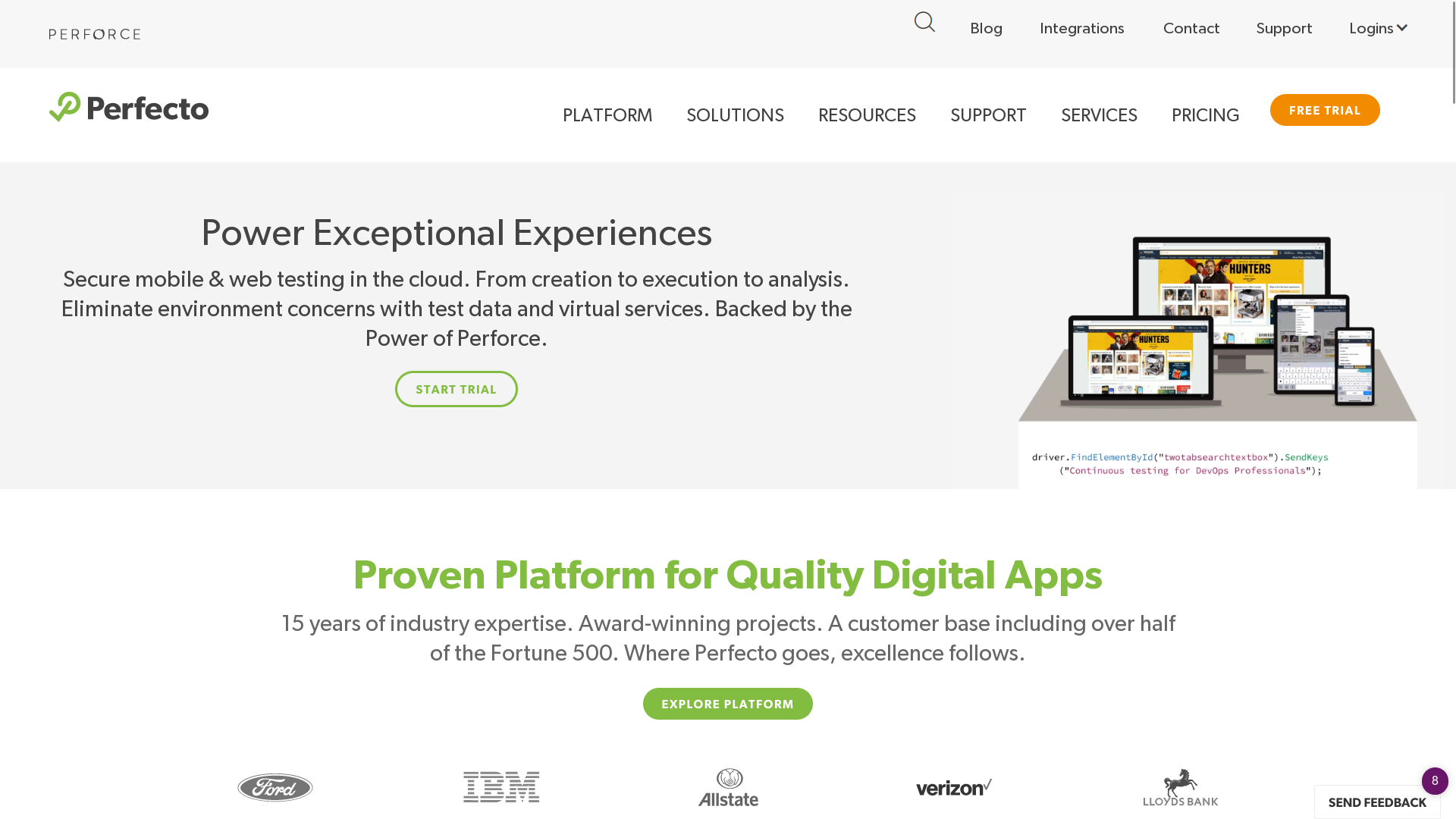 Key Takeaway
Katalon Studio offers a range of test automation features but has some critical drawbacks that can hamper productivity. Comparatively, Allure TestOps provides an all-in-one solution for managing and analyzing test results. It has robust features like smart test execution, customizable dashboards, and integrated collaboration tools.
It also supports various testing frameworks and integrations with popular DevOps tools. Hence, it helps businesses automate bug tracking and accelerate release cycles lacking in Katalon Studio.
Regarding pricing, Allure TestOps has flexible and affordable plans to help businesses get the most out of the platform. Additionally, it is a comprehensive and scalable solution with advanced reporting and analytics capabilities. It empowers teams to deliver high-quality software with faster feedback, scalability, and increased visibility into testing activities.