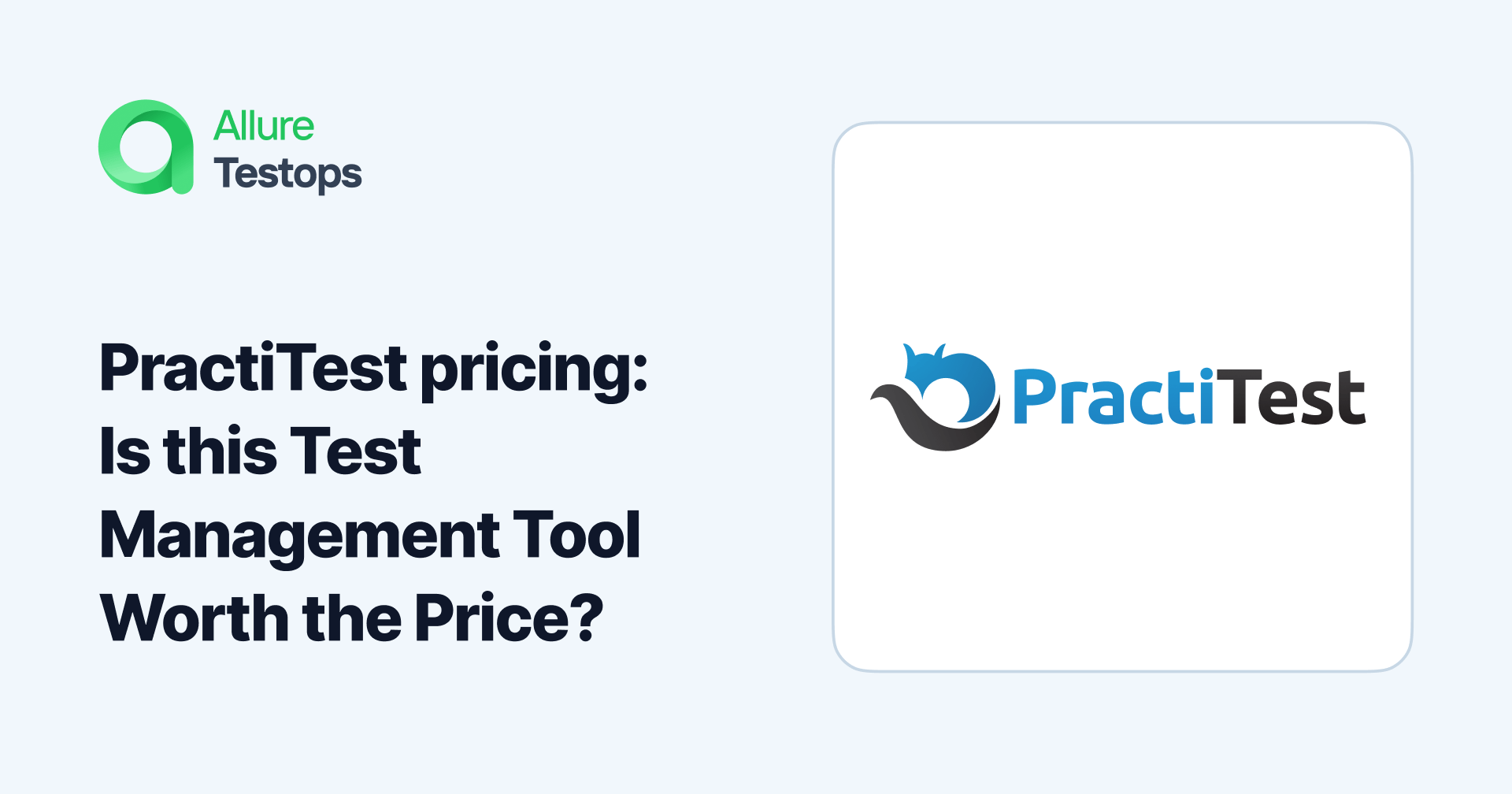 PractiTest Pricing: Is this Test Management Tool Worth the Price?
Searching for the right test management tool can be a difficult task. There is a lot to consider whether you are evaluating features, considering costs or comparing user feedback.
Businesses worldwide have increasingly adopted Test Management Tools (TMTs) to automate their QA processes.
One of these solutions is PractiTest, an enterprise-grade test management system that allows teams to plan, manage and track their software quality process. But how much does it cost? Is PractiTest worth the price?
In this article, we'll explore what PractiTest pricing looks like and whether or not it's a worthwhile investment for your business.
We'll review the different plans available to customers, look at additional costs associated with implementing PractiTest. So if you're curious to find out whether or not PractiTest is the right tool for you, read on.
About PractiTest Tool
PractiTest is a comprehensive QA Management tool designed to enhance Agile Testing. This outstanding solution guarantees visibility and cooperation at all levels of IT organisations.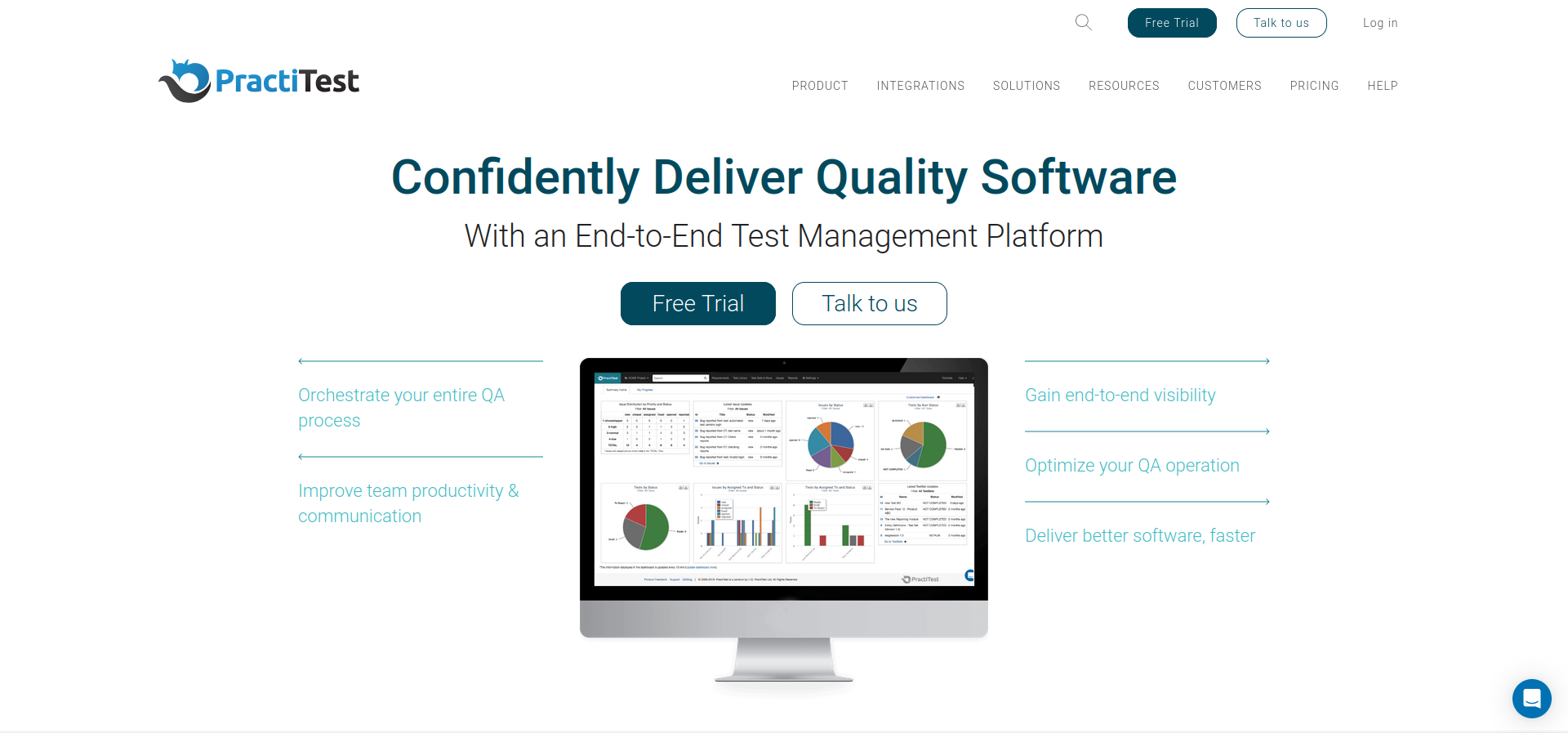 Additionally, it assists in streamlining and overseeing testing processes whilst always granting management an effortless view of their project's progress.
With its Cloud-based feature, PractiTest helps organizations with distributed teams save time and resources, providing an organized way of planning, executing and reporting on their tests.
It also comes with several essential features such as a pivotal tracker, test runs library, defects management, comprehensive reports & dashboards and many more that facilitate the process of tracking issues accurately and efficiently.
Apart from its excellent PractiTest pricing options, the tool also provides seamless integration with your current bug or issue-tracking system, whether Bugzilla, JIRA, Redmine - and more!
Utilizing this feature can take the hassle out of tedious tasks such as switching between different programs.
Practitest Features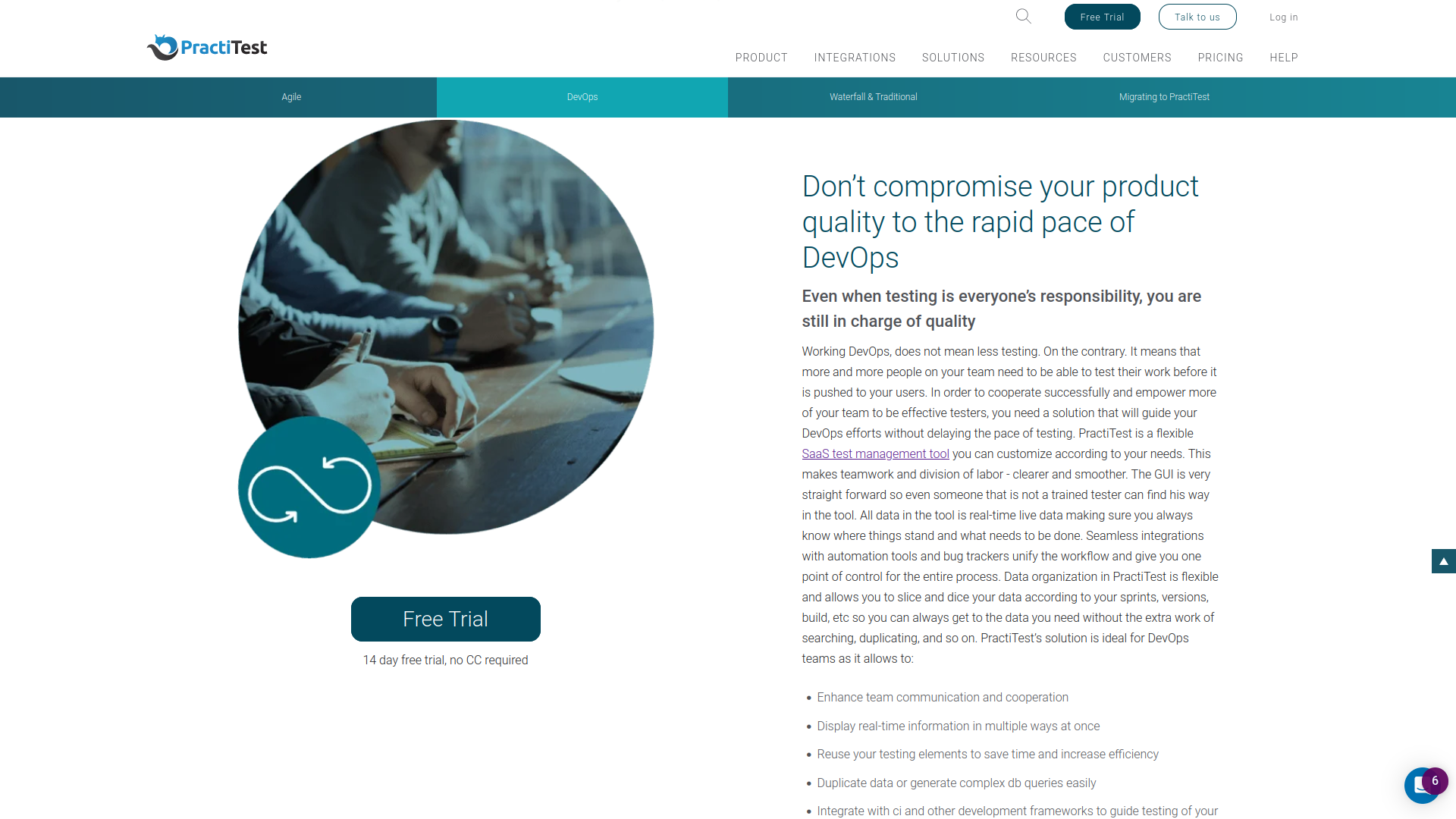 There is a range of features that PractiTest provides to give you the best test management experience. Here are these features:
Centralized Test Management
Centralized test management allows you to keep all your test plans, test cases, requirements and results in one place. This makes searching and finding the information you need quickly and efficiently.
With centralized test management, you can assign tests to specific testers, track the progress of tests as they move through different stages, and store multiple versions of the same tests for future reference.
Users can also generate comprehensive reports on the status of their projects with just a few clicks.
Map Tests to User Stories
PractiTest's mapping feature lets you quickly and easily link tests to user stories. This gives the team a clear overview of which tests are associated with each story, enabling them to make more informed decisions.
In addition, when tests are linked to user stories, they can be followed up more effectively, and similar problems can be identified quickly.
With PractiTest's mapping feature, teams have an extra layer of context that helps them work together seamlessly and optimize their workflow.
Create better visibility into your testing efforts and discover why linking tests to user stories is essential for success with PractiTest!
Iteration Management from PractiTest allows you to plan and manage your software testing cycles, giving you the control you need over time-sensitive projects.
You can easily track progress and milestones across multiple teams with practical analysis tools that provide process insights.
Iteration Management also provides customizable workflow templates for various development stages and stages that help teams stay organized and on track.
With this feature, you can quickly adjust plans as needed, ensuring accuracy in the planning and execution of tasks.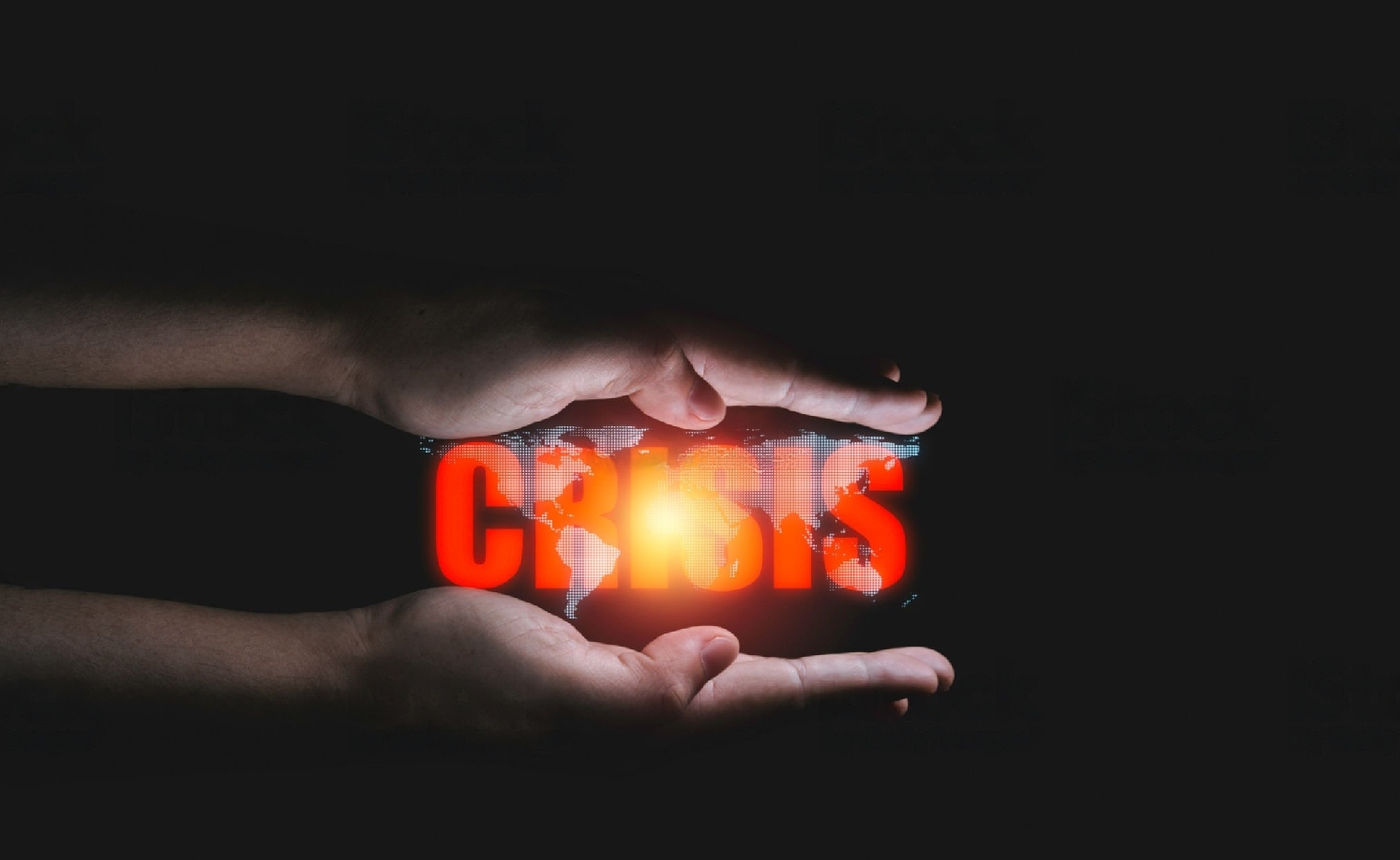 One of the most significant software testing tasks is bug tracking and defect management. With PractiTest, this process is made easy and efficient. This feature provides users with the ability to log defects regarding any project.
You can track the progress of each bug quickly and easily. With its intuitive interface, you can identify which bugs are already resolved or what is still left to do.
It also enables users to assign tasks to specific team members and create multiple versions for comparison. This feature helps ensure that your software testing results in quality code with no errors.
PractiTest's defect management system allows you to get things done quickly and accurately to maximize productivity on every project.
Hierarchical Filters Tree
The Hierarchical filters tree in PractiTest allows you to quickly and easily organize your tests into different categories. It can be used to group tests by feature, assign them to specific testers or teams, or add metadata like priority level, severity or test type.
With the hierarchical filters tree, you can quickly find what you're looking for within your test suites and ensure that the right set of tests is assigned to the right people.
Plus, it makes tracking progress on your testing efforts easy so that you always know where you stand.
In short, the Hierarchical Filters Tree helps optimize your testing process and ensures all your test suites are organized efficiently!
Custom Fields and Filters
Custom fields and filters in PractiTest allow you to easily create, configure and filter information according to your project's specific needs. With custom fields, you can add new data types to any issue type or test run, such as priority levels or specific tags.
Filters then enable you to search through all these additional details to quickly identify what action items need attention or where potential problems may be located.
With the help of customizable fields and filters, organizations can better organize their projects and gain timely insights into how they're progressing - optimizing workflows and increasing productivity.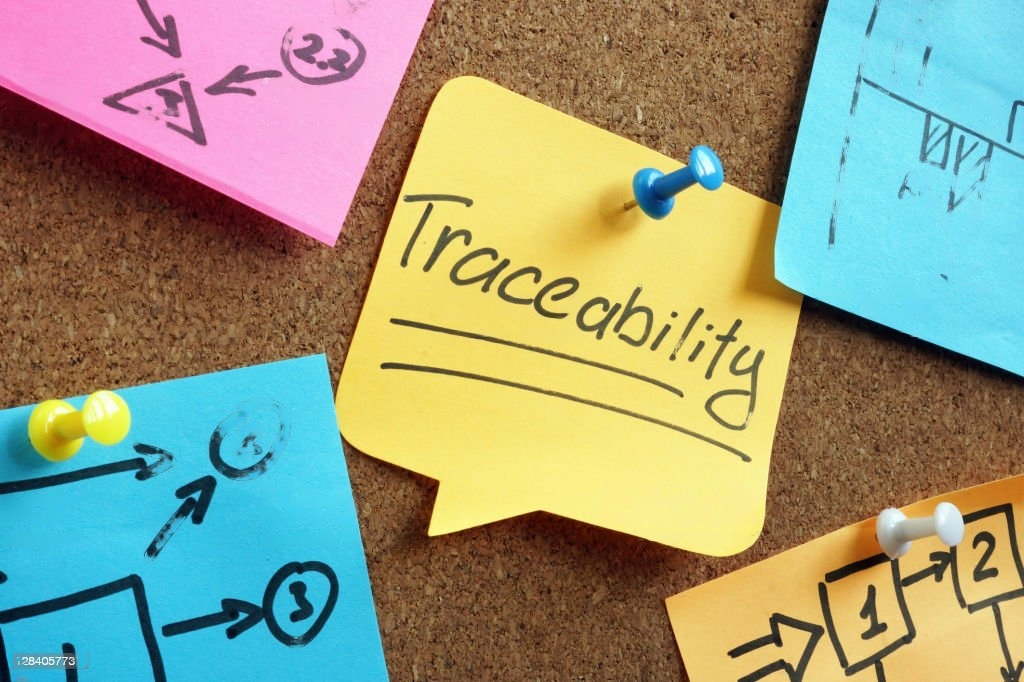 Traceability is an important feature to ensure the quality of your product. PractiTest's traceability solution allows you to link requirements, test cases, issues, and other related artefacts, giving you visibility into how they work together.
Traceability helps break down barriers between teams by providing full end-to-end coverage for all project elements.
With this feature, you can quickly identify which tests should be run for specific requirements and track progress on both a macro and micro level to ensure everything is running as expected.
Traceability also provides oversight on development cycles to track any changes or updates in real-time.
Pros of PractiTest Tool
PractiTest is incredibly user-friendly and intuitive. Its interface is well-designed, enabling users to learn the platform and quickly perform their testing activities.
The tool provides an easy way for teams to collaborate on projects, share ideas, and work together more effectively. It also offers a powerful reporting feature that allows teams to track progress, identify areas of improvement, and make decisions accordingly.
With PractiTest's real-time monitoring capabilities, teams can monitor the performance of their applications accurately and in an efficient manner.
This helps them detect problems as soon as they arise, allowing quick corrective action to be taken before it affects other parts of the system.
PractiTest's Advanced AI feature allows users to automate complex tasks and quickly prioritize issues. This helps teams save time, stay organized and ensure they address the most important problems.
The AI also offers insights into project progress and helps identify potential risks before they become a problem. With these features, users can get their work done faster and more efficiently to focus on what matters most — delivering quality results.
PractiTest offers amazing dashboard graphs that help you analyze your data quickly and effectively. You can easily visualize the results of tests, bugs, and other information in a way that's easy to understand.
This saves time because you don't have to extract data from reports or spreadsheets manually. Plus, you better understand what's going on with your projects at a glance.
With this feature, it's easier to spot trends and make decisions faster so you can focus on delivering quality output for your clients.
So if you're looking for an agile testing tool with great visualizations, PractiTest is a great choice!
Cons of PractiTest Tool
The PractiTest tool is only available as a SaaS tool, meaning you completely depend on the service provider for maintenance and support.
This can be limiting in some cases, as access to the system may be limited due to internet connection problems or other technical issues. Also, the test case management capabilities are limited to what the service provider offers.
One of the biggest cons of PractiTest is the history of result pop-ups. When a user tries to run a test or view the results of an existing one, they often get bombarded with multiple pop-ups that show the history of the test.
This can be very distracting and make it difficult to concentrate on the task at hand. It can also slow down the process as users try to close all of these pop-ups before continuing their work.
Takes Time for Beginners to Learn the Features
Even though PractiTest is a user-friendly tool, it takes a good amount of time for beginners to learn all the functions and features of this tool. This might be a challenge for all those teams that have limited resources.
Does Not Have the Copy Paste Option
PractiTest doesn't have the copy pasting option like other tools. Hopefully it gets added in the future. This can make things a lot easier for many businesses.
Does Not Have an In-Built Testing
The tool supports the integration of the automated tools but it doesn't have in-built engine to conduct automated testing.
Although the PractiTest pricing options look reasonable for many businesses, it can be expensive for businesses who have a tight budget.
PractiTest Pricing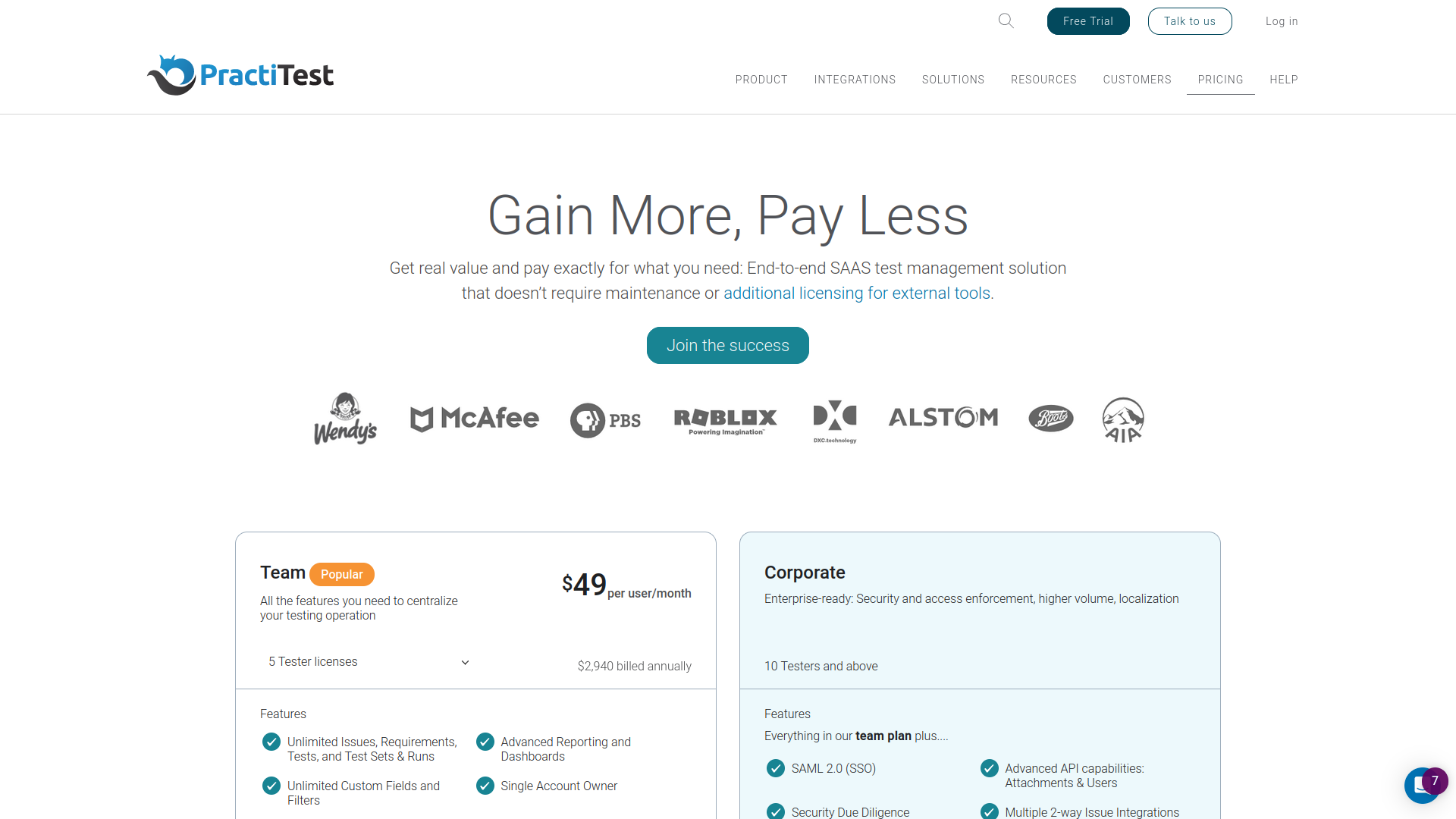 Are you seeking an effective yet affordable quality assurance (QA) tool? Look no further than PractiTest. This QA platform offers three different pricing editions to help you meet all your needs for unlimited project options.
Whether you are just getting started on the path to quality control or require more advanced features, PractiTest has you covered. Here are the these PractiTest pricing plans that you can choose from:
The Professional Plan is the most popular among PractiTest users. It starts at $39.00 per month for 1 user. This plan is great because you get full access to all of PractiTest's features with no hidden costs!
This PracticTest pricing plan includes Issue Management, Tests Management, Test Set Management, Requirements Management, Custom Fields, Run Tests and Integrations.
With these tools you can easily create test cases and monitor the progress of your project from start to finish. You can also store all related data in one organized location - making it easy to track how things are progressing throughout the entire lifecycle of a project.
The Enterprise Plan from PractiTest is perfect for those looking for a comprehensive test management tool at an affordable price. Starting at $49/month, the plan includes up to three users, with no hidden costs – and unlimited projects!
Covering all your needs in terms of tests and issue management, requirements management, running tests, API access, two-way integrations and even custom fields and multi-factor authentication (MFA), this plan offers great value for money.
With PractiTest's Ultimate Plan, you can unlock hidden benefits and features to help you get the most out of your PractiTest experience.
The Ultimate Plan offers unlimited projects, custom pricing for high-volume API usage, two-way integrations, issue management, requirements management, the ability to run tests, custom fields for tests management, test set management and more.
Best Alternative to PractiTest: Allure TestOps
Allure TestOps is a comprehensive alternative to PractiTest that offers the same level of quality assurance and test management capabilities.
With Allure TestOps, users have access to an array of powerful tools including the ability to create and manage tests, track bugs, collaborate with teams on projects, monitor performance in real time, and generate detailed reports.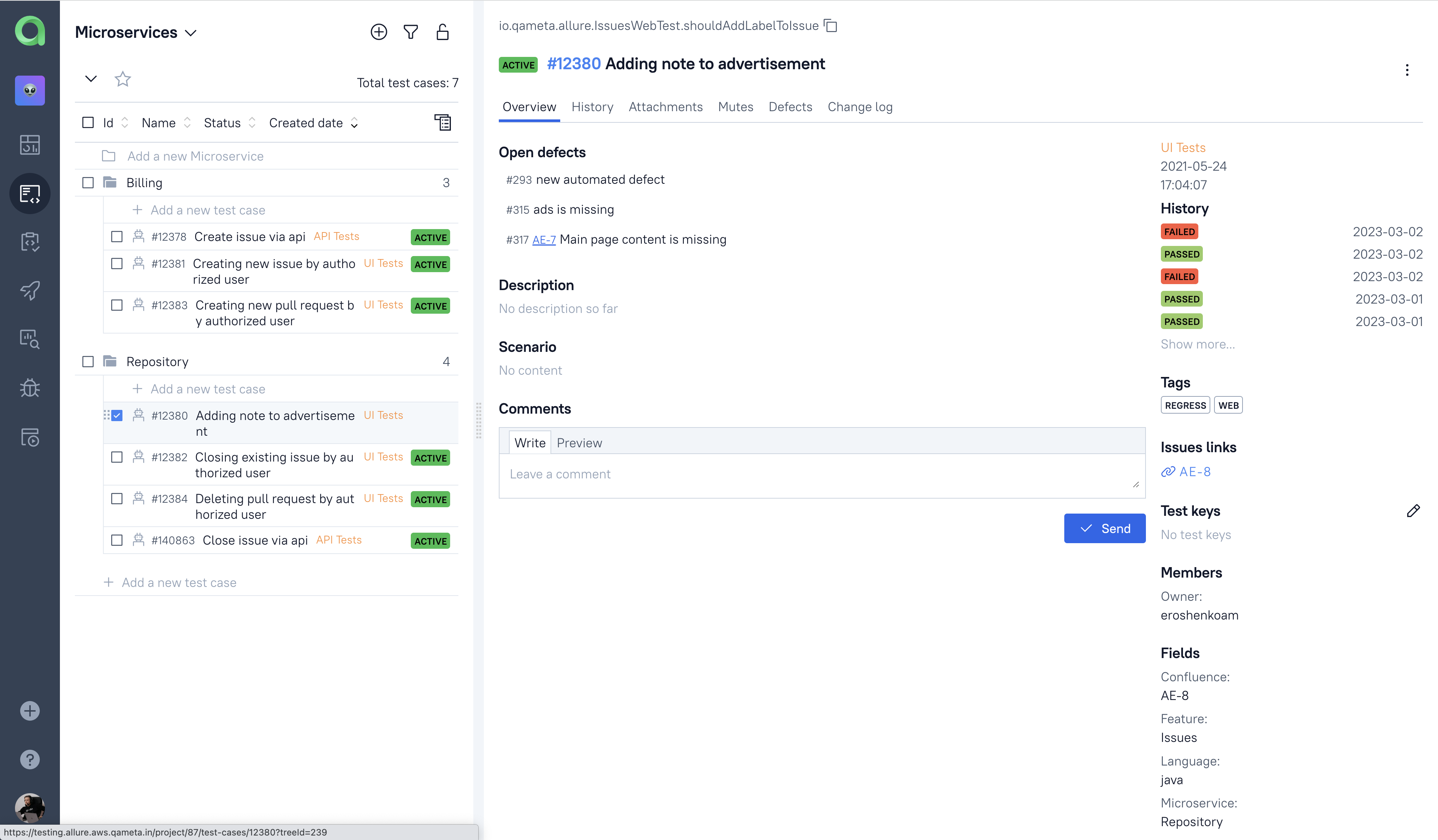 Additionally, Allure TestOps provides advanced features like Live documentation, Metrics and KPIs, and a Suite of APIs.
With Live documentation, users can track the entire life cycle of their software development process in one place.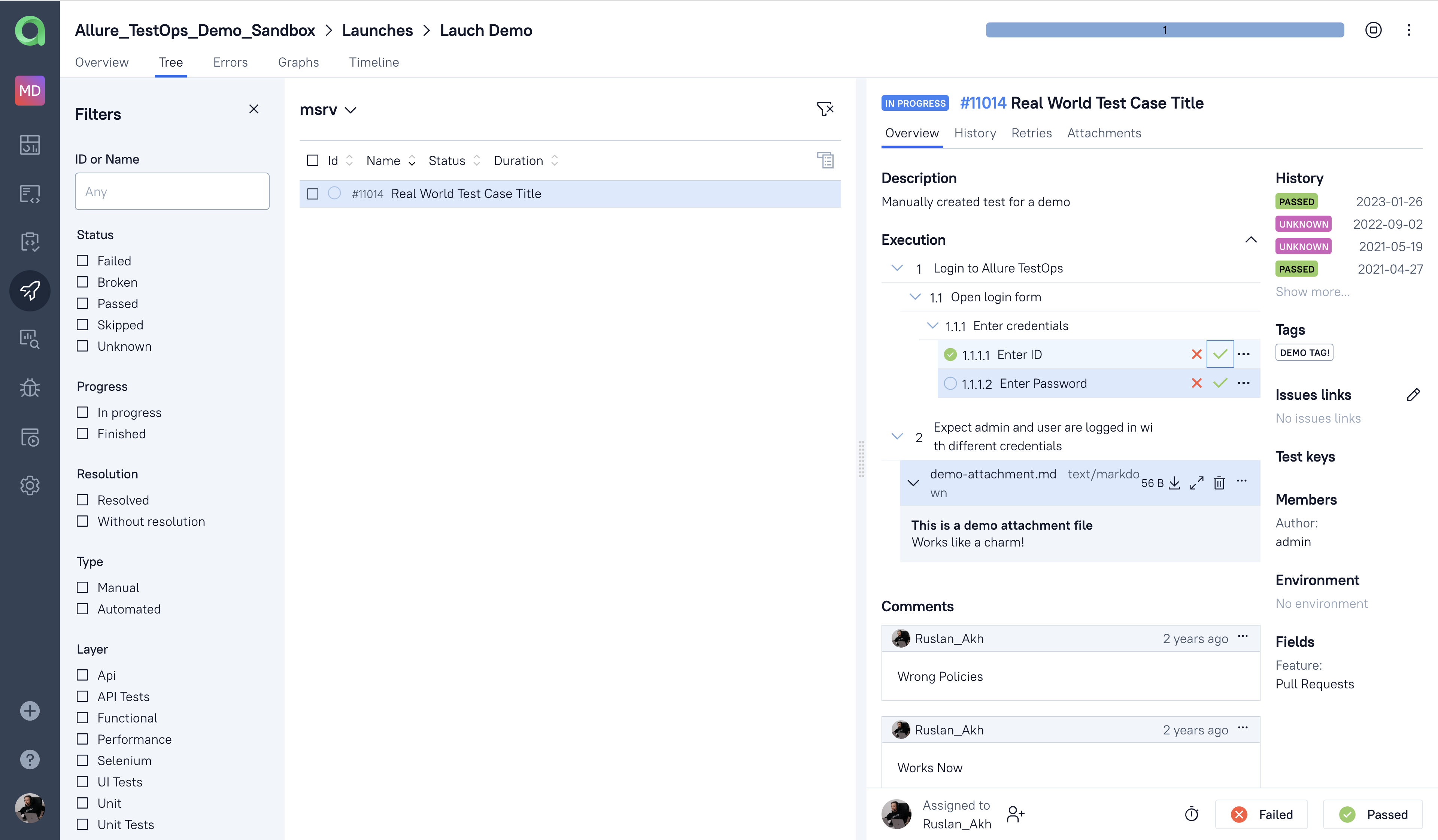 Metrics and KPIs allow teams to measure quality assurance performance over time, and the Suite of APIs allows users to integrate Allure TestOps into existing workflows easily.
Overall, Allure TestOps provides a comprehensive suite of tools for managing tests, tracking bugs and improving performance at an affordable price point, making it an attractive alternative to PractiTest.
So, what are you waiting for? Take a free trial with Allure TestOps today and see how it can help you optimize your quality assurance processes.
The Bottom Line
PractiTest is an intuitive and comprehensive test management tool for teams of all sizes, making it a great value for the price.
It offers plenty of automation and tracking capabilities to help you control testing processes, keep projects on track, and maximize efficiency.
With its user-friendly interface and simple setup process, PractiTest can be up and running quickly. If you need a reliable way to manage your tests easily, then PractiTest is worth the price.
However, for a better alternative, you can always opt for Allure TestOps that brings the best of both worlds - automated as well as manual testing!