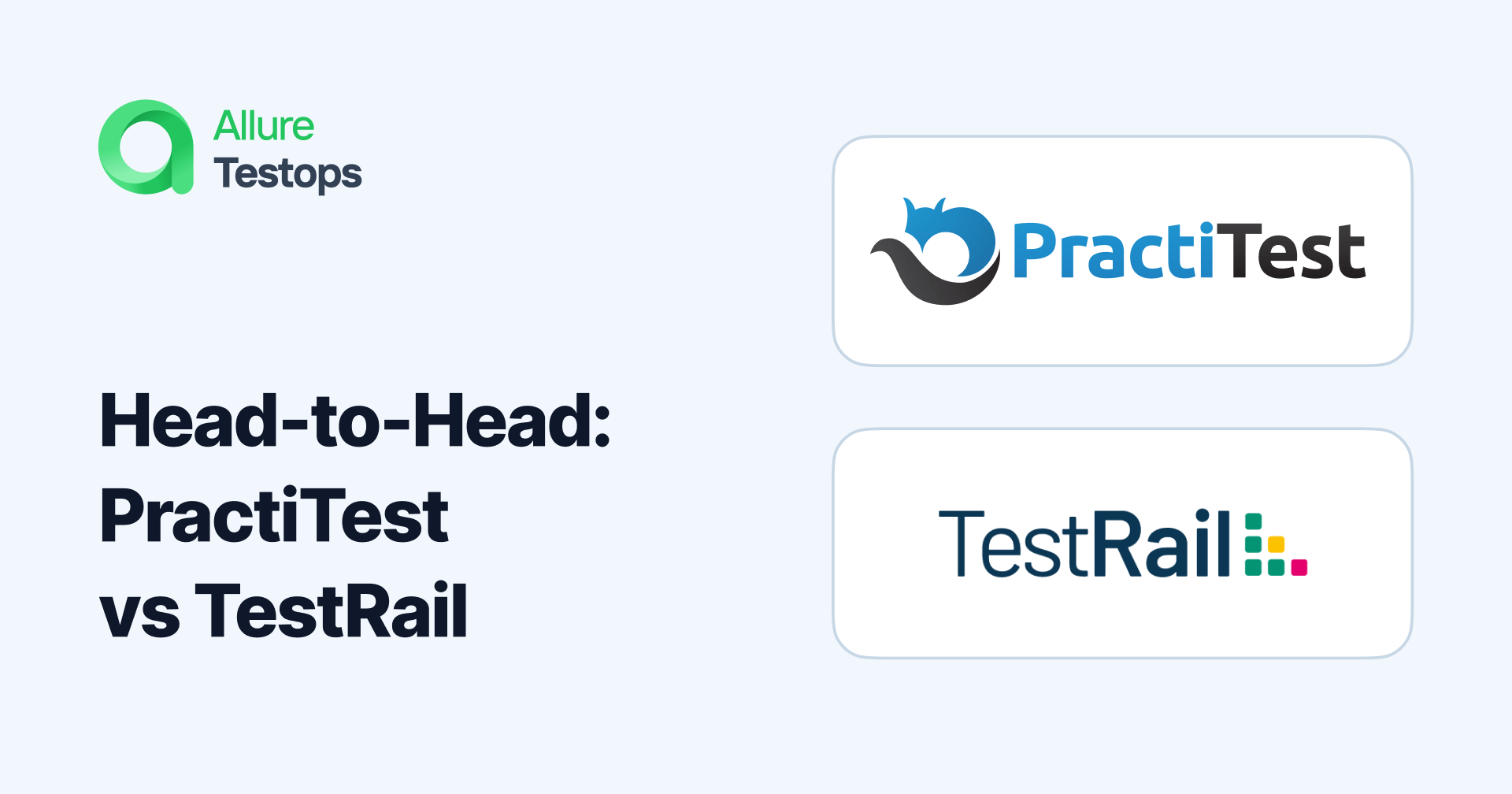 Head-to-Head: PractiTest vs TestRail - Comparing the Top Test Management Solutions
A reliable test management tool ensures quality and efficiency in the testing process. But selecting one tailored to your needs and preferences can be daunting and time-consuming.
PractiTest and TestRail are the two popular options on the market that can streamline your testing operations and help you achieve your desired results. But what's the difference between the two?
Can they address your testing requirements?
Let's compare PractiTest vs TestRail - the top test management solutions on the market to find the answers.
What are Testing Platforms and Why are they Important?
Testing platforms are software tools or systems that enable developers and testers to automate the testing process of software applications.
These platforms provide a comprehensive framework for executing tests, managing test cases, generating reports, and analyzing test results.
Here are five significant reasons testing platforms are important:
1. Improve software quality
Testing platforms allow testers to identify software application bugs and defects, helping improve software quality and reliability.
The platform enables testers to identify issues early in the development process, reducing the risk of defects causing issues for end-users.
2. Enhance efficiency
It offers automation capabilities, which increase testing efficiency and reduce the time taken to perform repetitive tasks. This improves productivity and allows testers to focus on more complex and critical testing activities.
3. Facilitate collaboration
Testing platforms provide a centralized location for all testing-related activities, enabling testers and other stakeholders to collaborate. This improves communication, reduces duplication of efforts, and ensures all team members are on the same page.
4. Ensure compliance
These platforms provide an audit trail of all testing activities, which is critical for ensuring compliance with industry regulations and standards. The platform ensures that all testing activities are traceable, documented, and transparent.
5. Reduce costs
Testing platforms help reduce software development costs by identifying defects early in the development process. This reduces the cost of fixing defects later in the development process or after the software has been released to the market, leading to significant cost savings.
Testing platforms are critical tools that enable testers to identify defects, improve efficiency, facilitate collaboration, ensure compliance, and reduce costs in software development.
Now let's compare the two testing platforms.
PractiTest vs TestRail
Both tools offer a variety of plans that can meet different needs and budgets. Here's a detailed breakdown of their pricing structure.
PractiTest Pricing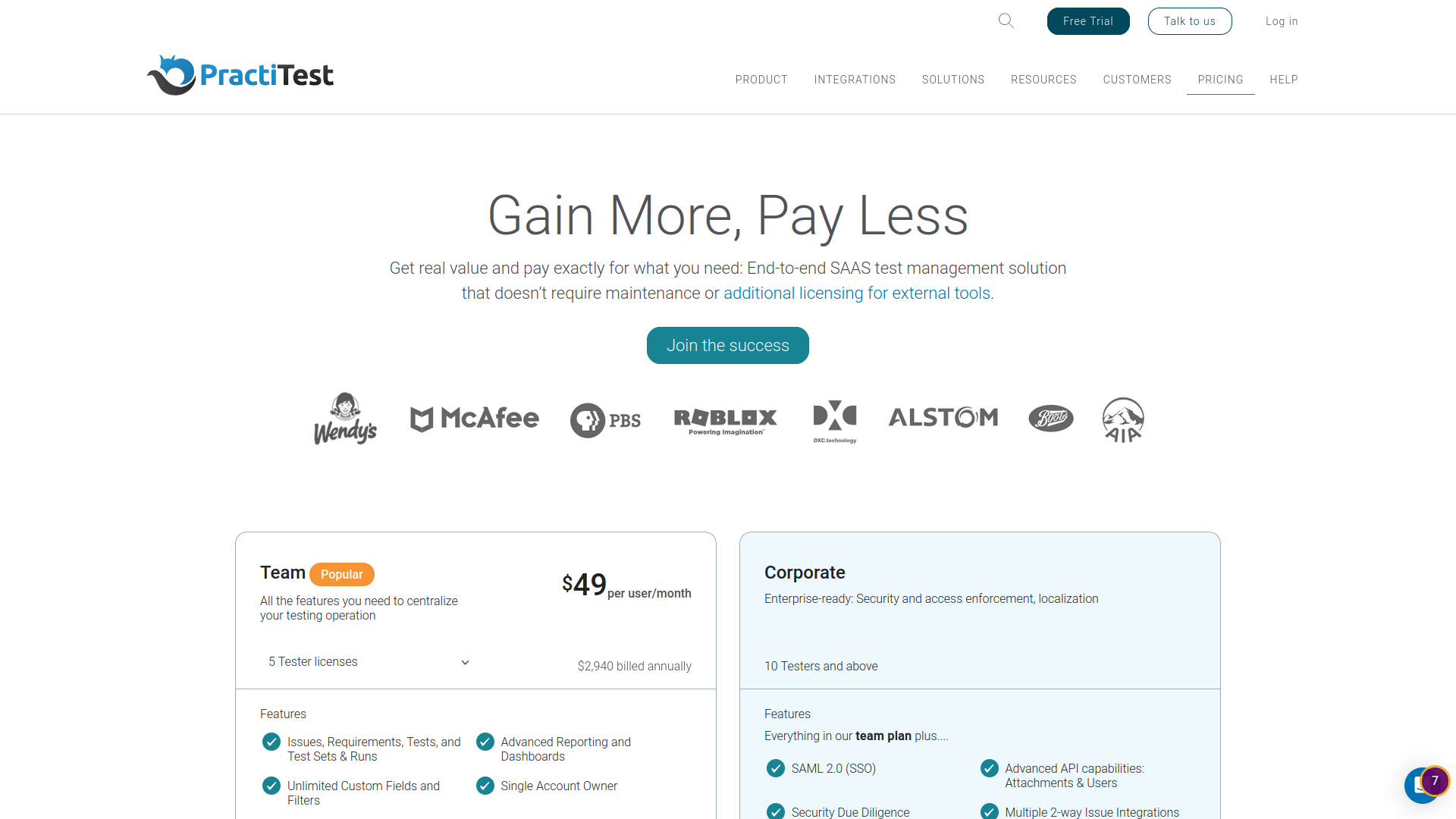 Being an end-to-end SAAS test management solution, PractiTest doesn't require additional licensing for external tools or maintenance. It ensures that the overall pricing of the software is comparatively low.
One of the key features of PractiTest is its customizable dashboards and reports. You can create dashboards and reports that are tailored to your specific needs, making it easy to track testing progress and identify areas for improvement.
It offers three pricing options:
Starting at $39 per user per month, the professional package offers all the basic features required to start your testing operation. With unlimited support and project testing, the basic offer stands out compared to multiple leading test management software.
You can add custom fields and filters and analyze the test results with powerful reporting and a smooth dashboard. It offers 1-way issue integrations and multi-factor authentication (MFA).
You can also get all management module issues, requirements, tests, and test sets and runs. But you only get a minimum 3 tester licenses.
The package costs $49 per user per month and offers advanced and automated testing and 2-way integrations. It covers all the professional package's features plus multiple add-ons that improve the overall test management experience.
You get API access and multiple features like call to test, step parameters, test set permutations, and time management. But you only get a minimum of 3 tester licenses.
The premium version of the tool offers enterprise-grade performance with security and access enforcement, higher volume, and localization.
The price is not mentioned, but you can get customized quotes based on your requirements. You can access all the features offered at the enterprise level plus additional add-ons like:
Multilingual Support
Advanced API (Users and Attachments)
Premium Onboarding + Customer Success
Additional Storage + Entities + API
MFA Enforcement + SAML 2.0 (SSO)
Contract Negotiation + Security Due Diligence
You get a minimum of 10 tester licenses.
PractiTest also offers a free trial version that can provide a detailed overview of the platform. Also, besides minimum licensed users, you can add developer licenses at $9 per user per month, which gives partial access to developers.
TestRail Pricing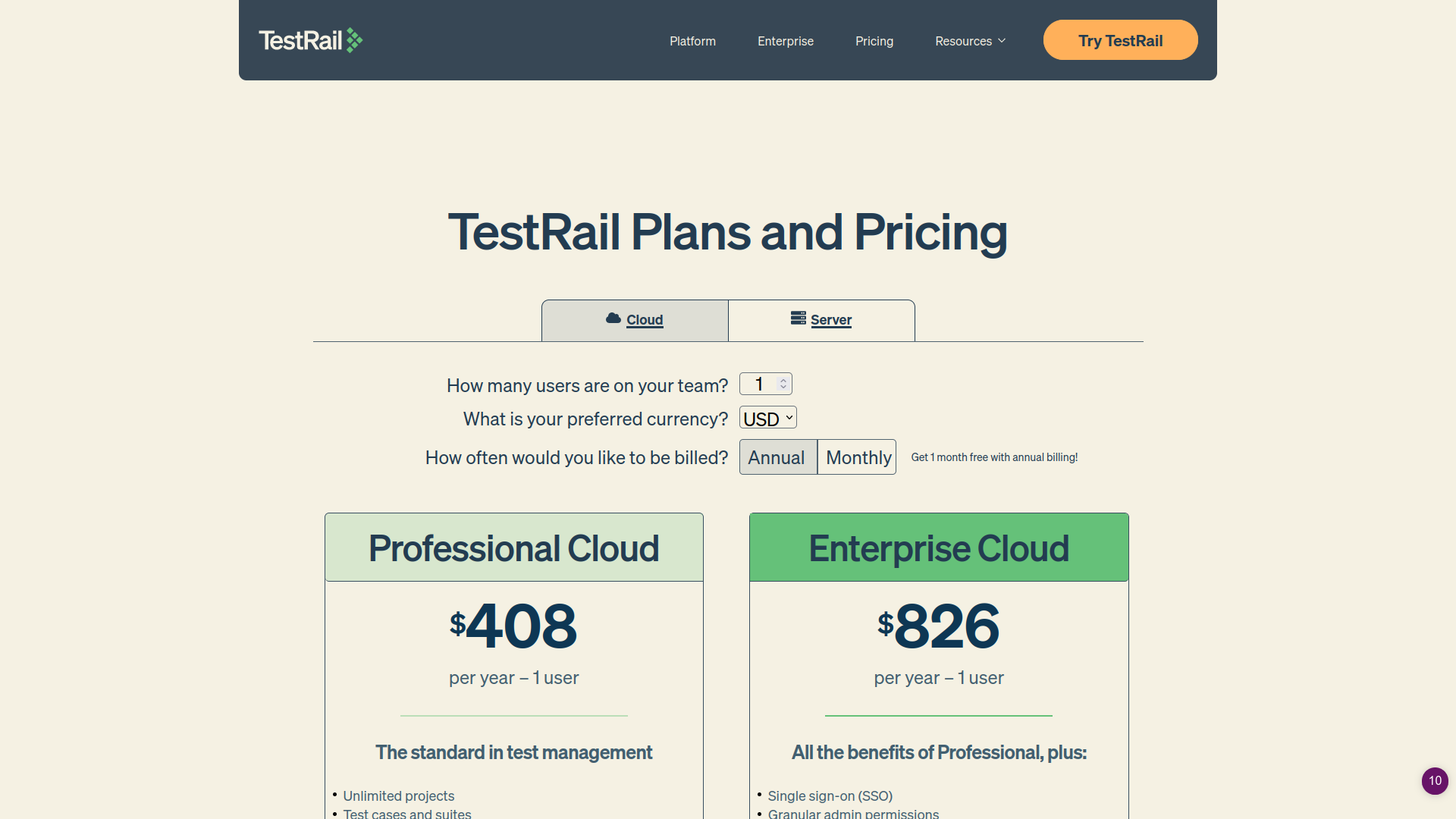 TestRail is a centralized QA platform that allows testers to build, connect, and optimize all the testing processes. One of the key features of TestRail is its ability to create and manage test cases. You can create test cases and organize them into test suites, making it easy to manage large sets of test cases.
TestRail also allows you to create custom fields and templates, making it easy to tailor the tool to meet your specific needs.
It broadly offers two pricing options.
Cloud
The pricing of the cloud services of the test management platform varies based on the number of users, preferred currency, and billing cycle. You have two options:
The starting price for the annual billing cycle is $34 per user/month, which will be $408 total for 12 months per user. But if you choose the monthly billing cycle, it will cost you $37 per user/month, which is $444 for 12 months per user.
The enterprise cloud package is only billed annually and will cost you $69 per user/month, which is $828 for 12 months per user.
You can try out the free trial of the platform to understand the nitty-gritty aspects of its features and functionalities.
Server
You can choose the number of users that want access to the dedicated servers and your preferred currency. You have two pricing options.
The basic price is $1,905 per year for 5 users, which can vary based on the number of users you select.
If your operations are at a large scale, you can choose the enterprise server, which will cost you $3,600 per year for 5 users.
You can try out the free access to dedicated servers before making the final purchase decision.
Both PractiTest and TestRail offer competitive pricing plans. The best option for you depends on your specific needs, team size, and budget.
Now let's understand the similarities for a better understanding between PractiTest vs TestRail.
How are PractiTest and TestRail Different?
You must understand the difference between the two test management tools to determine which is best for your business. Here are some of the ways how they differ:
| Feature | PractiTest | TestRail |
| --- | --- | --- |
| User interface | Modern, visual representation of test data | Traditional |
| Pricing model | Per-user, pay-as-you-go options | Based on the number of users |
| Test automation | Advanced capabilities, support for a wider range of tools | Limited capabilities |
| Customization | Extensive range of customization options | Limited customization capabilities |
| Security | Advanced features, including data encryption | Basic security features |
| Integration | Extensive integrations with popular tools | Integration with popular tools |
| Customer support | Comprehensive support, including phone support | Email support, self-service support center |
It's worth noting that this is not an exhaustive list of differences and that there may be other factors to consider when choosing between PractiTest vs TestRail.
So, let's understand the pros and cons of the two tools.
Advantages of PractiTest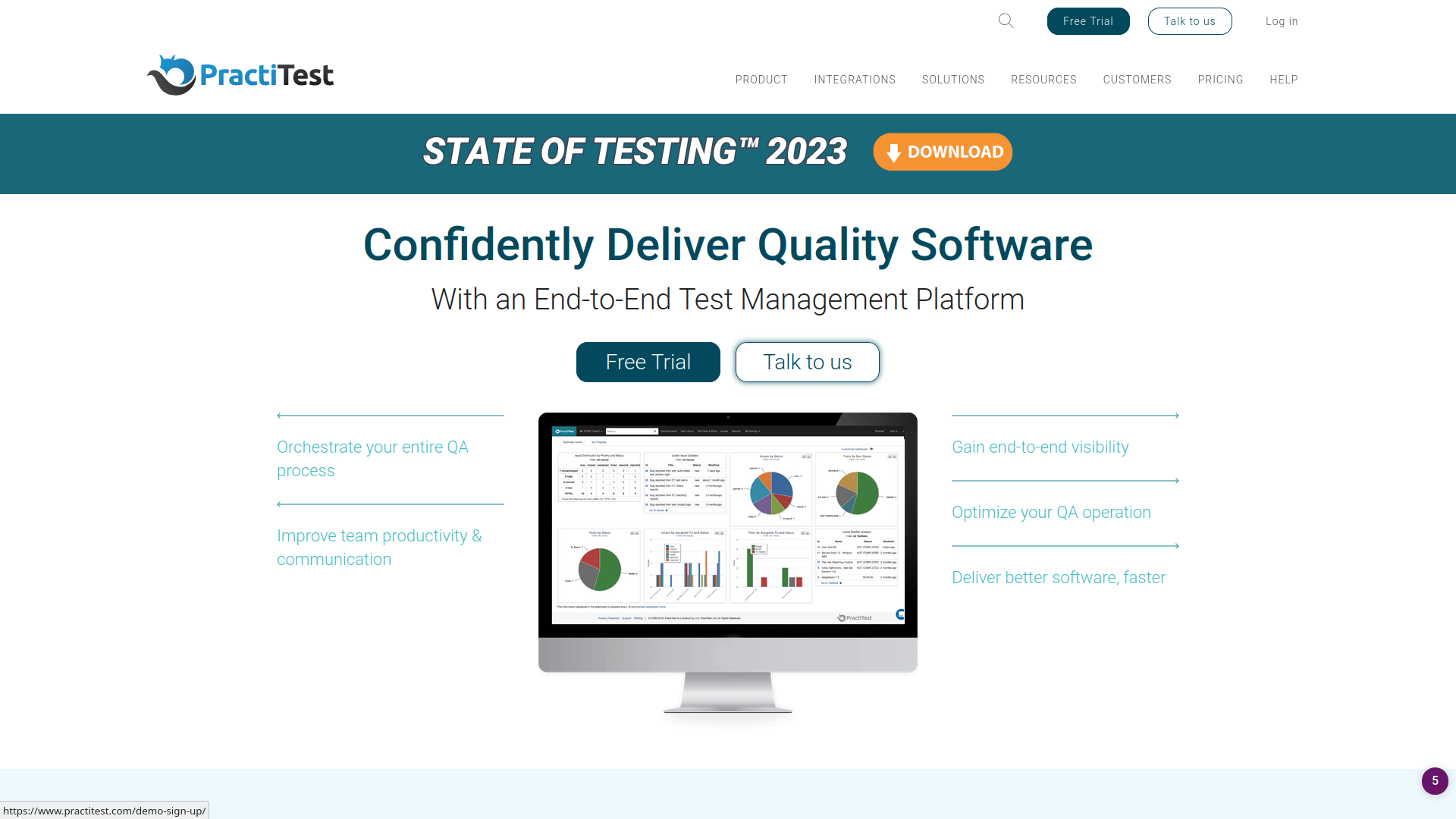 Security compliance - SOC type II and ISO 27001
AI-powered features
End-to-end solution with full traceability between requirements, tests, and issues
Unique hierarchical filter tree to organize project information and data
Two-way integration with Jira and other tools. Multiple ways to integrate automation
Advanced customizable dashboards and reports
Disadvantages of PractiTest
Old fashioned UI.
Some users have reported that PractiTest can be slow to load, especially when working with large amounts of data.
It can be expensive compared to other test management tools, especially for smaller teams or individual users.
Users may need to export data to third-party tools to create custom reports, which could be inconvenient.
Advantages of TestRail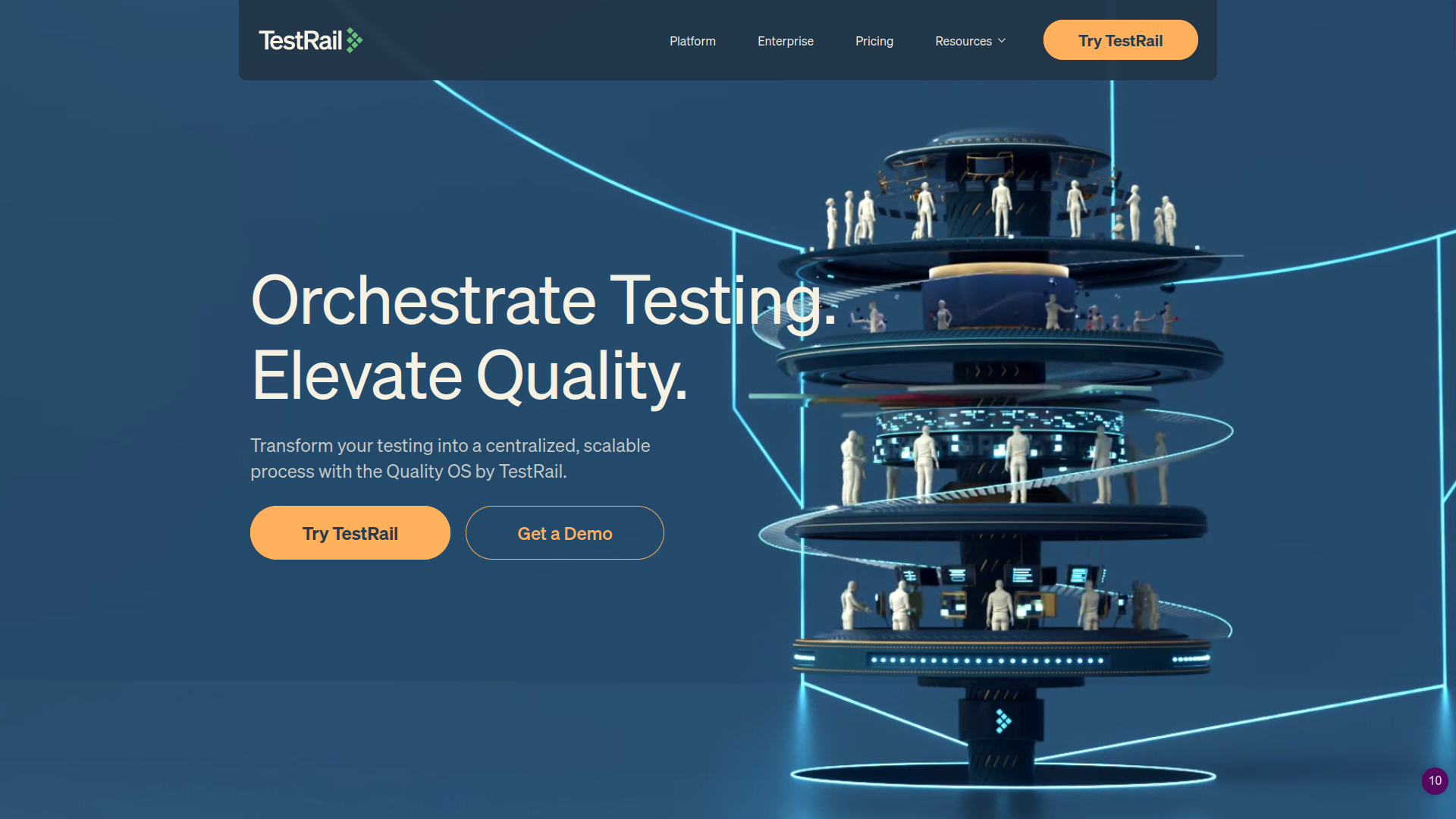 Relatively cheaper
Has both cloud and server solutions
A part of a fuller applications portfolio
Milestones modules to manage releases
Disadvantages of TestRail
Lack of support
Restrictive reporting capabilities
Rely on Amazon security compliance
No requirements and issues modules
Only API for automation integration
Jira integration is less robust because you can't view and manage issues in TestRail
Apart from these two powerful testing platforms, other testing tools offer better features at a more affordable price.
That's where you can trust Allure TestOps with your testing requirements.
It's an open-source, modern test management and reporting platform with many features allowing users to manage test cases, track defects, and generate detailed reports.
Why Choose Allure TestOps after Analyzing the PractiTest vs TestRail Debate?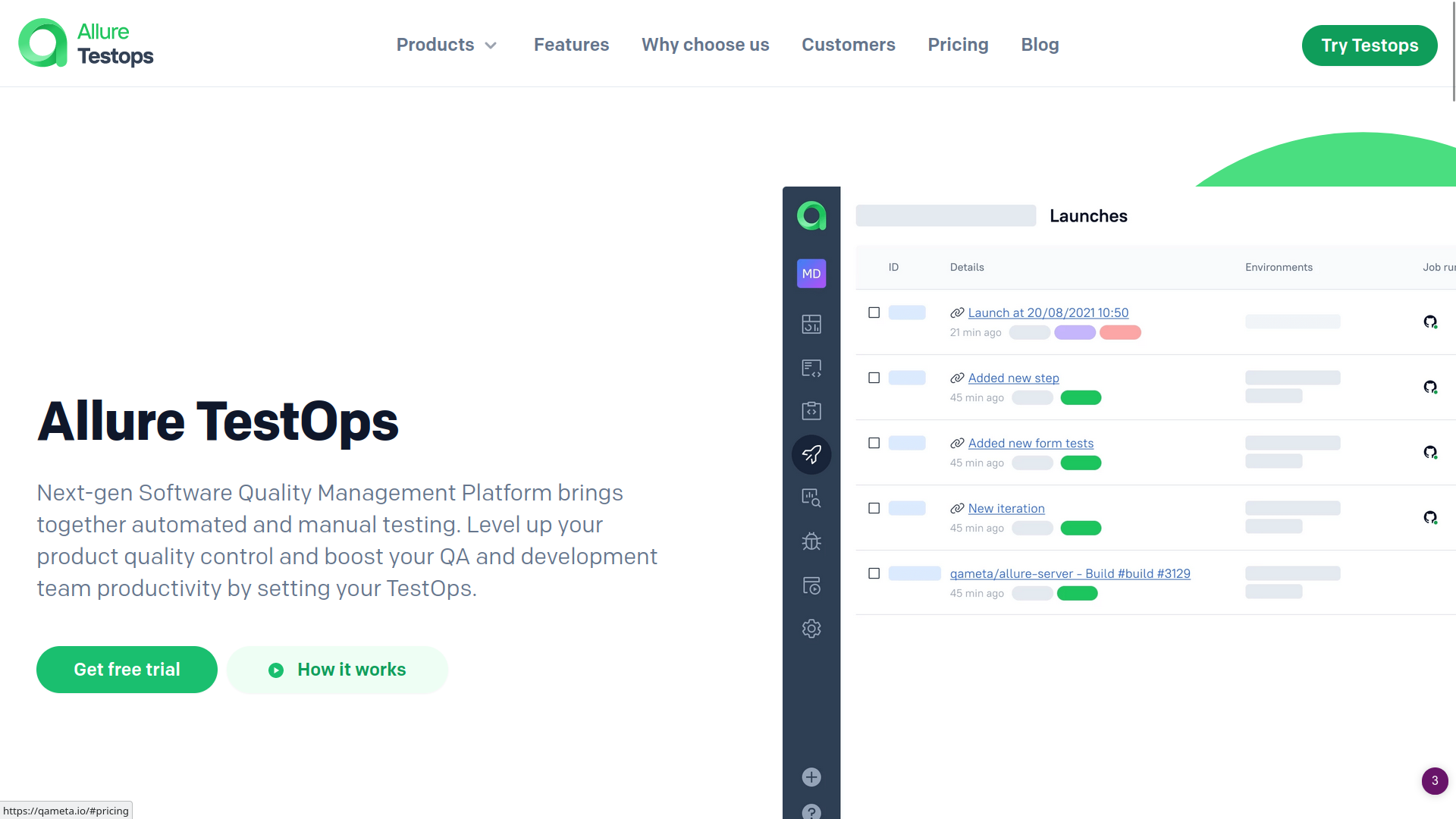 Allure TestOps is the best in class, reliable, and cost-effective testing management software compared to PractiTest vs TestRail, which can help you with testing sessions and automation.
Allure TestOps is a comprehensive and versatile testing platform that simplifies test management and enhances the overall testing process.
It offers a single platform that enables you to easily manage all aspects of testing, including manual and automated testing.
The platform supports the entire testing life cycle, from test planning and execution to reporting and analysis. This ensures that your team has a unified view of all test-related activities, helping you to deliver great products while reducing time-to-market.
Allure TestOps is a DevOps-ready testing platform specifically designed to optimize the testing process, ultimately boosting the software development pace.
As a commercial product, Allure TestOps is built on the reliable and well-established Allure Report, ensuring you get a powerful and dependable platform that meets your testing needs.
With its ability to support manual test cases, exploratory testing, and ad hoc testing sessions, Allure TestOps is a versatile tool that can help you manage your testing process more efficiently.
Here are the key points that help it stand out:
1. Robust reporting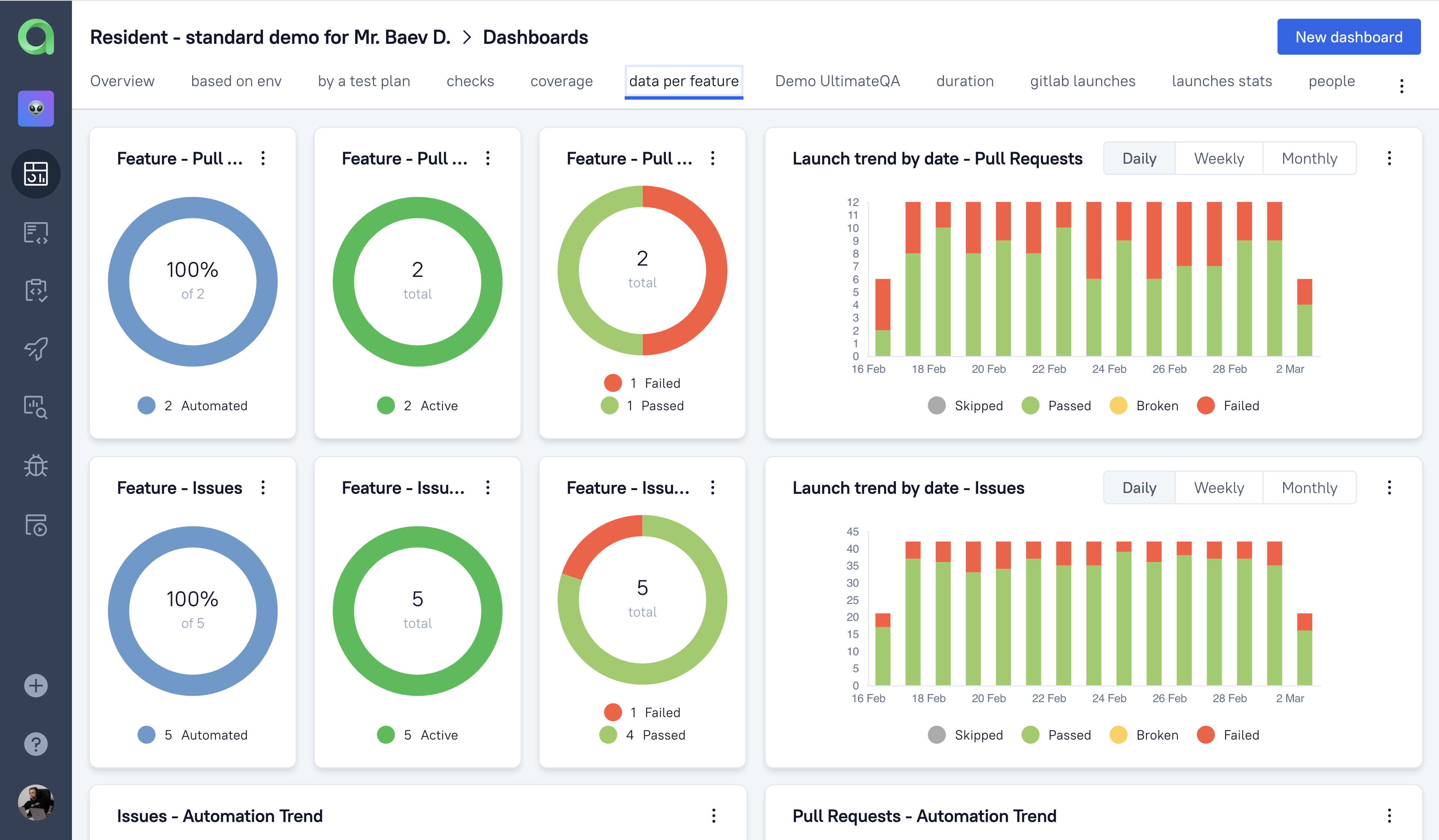 Allure TestOps provides rich reporting capabilities, including interactive dashboards, trend analysis, and detailed test run reports, allowing teams to quickly and easily analyze their testing progress and results. You can provide detailed reports to stakeholders or management to ensure maximum transparency.
2. Integration with open-source tools
Allure TestOps is built to integrate with other popular open-source tools like Selenium, Cucumber, and Appium, making it an ideal choice for teams that prioritize open-source technologies in their workflows.
3. Scalability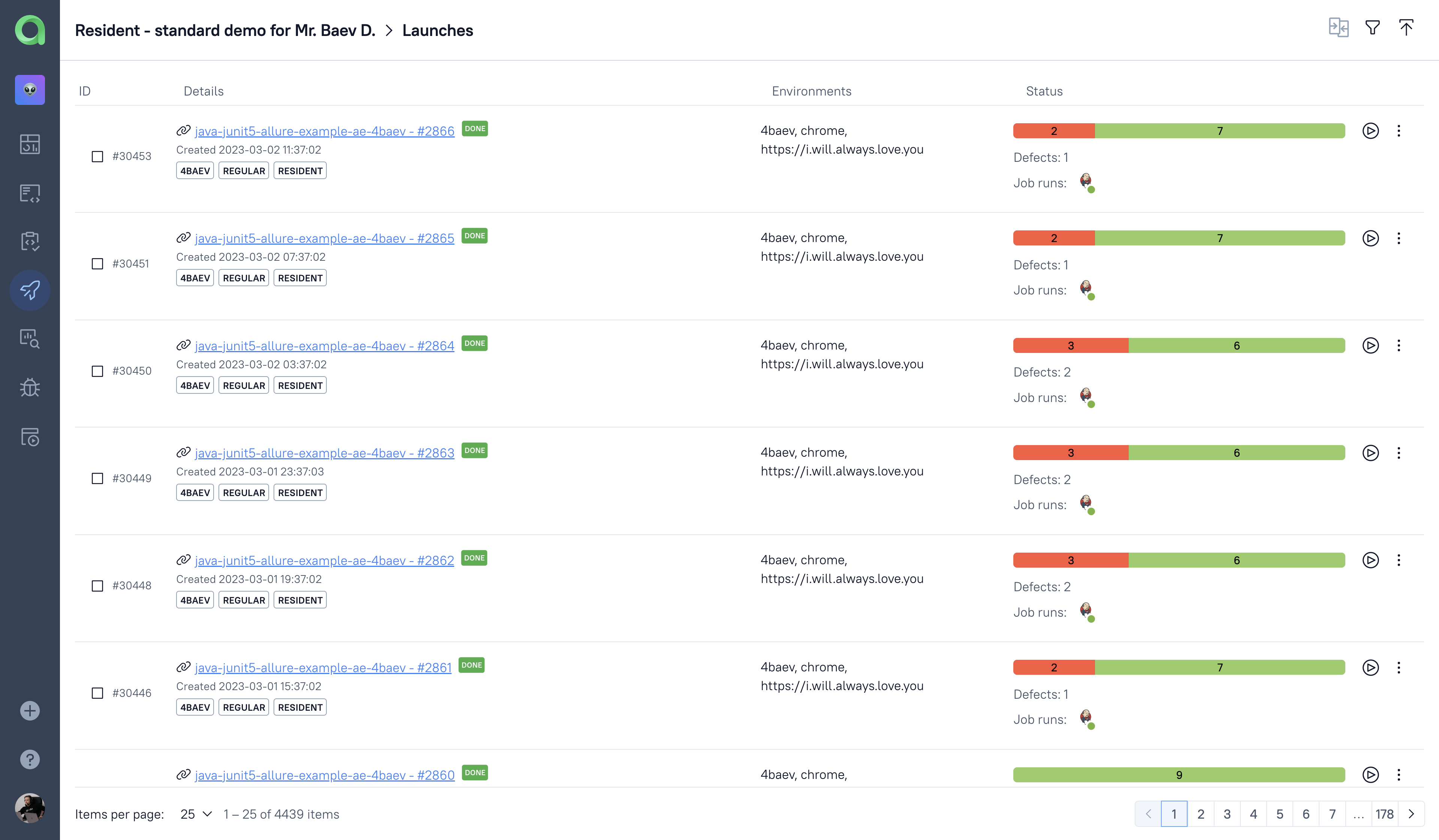 Allure TestOps is designed to be scalable, making it suitable for small and large teams. This could be a significant advantage for growing teams needing a tool to accommodate their changing needs over time.
4. User-friendly design
Allure TestOps has a sleek, intuitive interface that is easy to navigate, allowing teams to focus on their testing efforts rather than struggling to navigate complex software. This design could make it a good choice for teams that value user experience and ease of use in their tools.
5. Pricing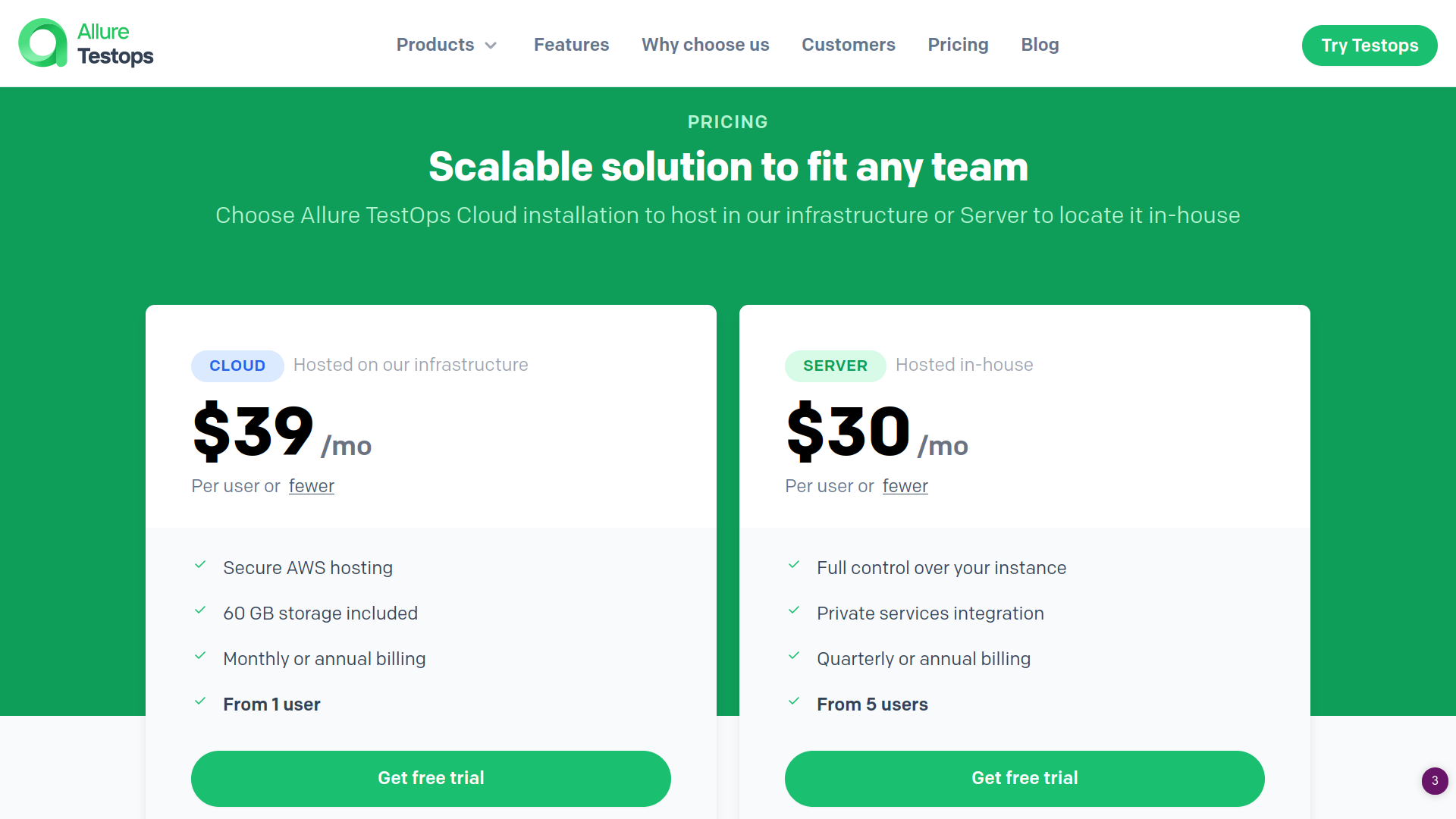 The basic pricing option is $30 per month for 5 users, and the premium version (cloud) will cost you only $39 per month. Both offers are excellent for small and medium-scale enterprises to get the best testing results.
You can address all your queries by contacting the support team or enrolling in for a 14-day free trial to transform your testing experience.
These features ensure you leverage the next-gen software quality management platform to improve product quality control and boost the productivity of your QA and development teams.
That's not it.
You can also access the community form to learn, share, and understand experiences with other Allure TestOps users.
Now let's dive a deeper layer into understanding its pros and cons.
Advantages of Allure TestOps
Import test results directly from IntelliJ IDEA
Start, stop, and reuse tests from Allure TestOps on build servers
Collect real-time test results from the build server while the build job's execution
Manage test runs in a central location
Create test cases using simple and intuitive interface
Boost the productivity of the QA department using features and integrations
You can use rich REST API and Allure QueryLanguage to access your data and minimize the hurdles during your testing phase
Execute tests smoothly, whether you have 1,000 test cases or 1,000,000.
Disadvantages of Allure TestOps
Limitations in integrating with the iOS system
Now that you have understood Allure TestOps' capabilities, it's time to make a wise investment decision between PractiTest vs TestRail vs Allure TestOps.
Choose the Best Tool
After comparing PractiTest and TestRail, it is clear that both are top-tier test management solutions that offer a wide range of features and capabilities.
Both offer robust features and functionalities that cater to the needs of software testers and developers, enabling them to streamline their testing processes and improve the quality of their software products.
PractiTest stands out for its customization capabilities, allowing users to tailor the platform to their specific testing needs.
On the other hand, TestRail is known for its simplicity and ease of use, making it a popular choice for smaller teams or those who prefer a more straightforward solution.
However, we would like to recommend Allure TestOps as a superior option.
Why?
Allure TestOps offers unique features such as:
Seamless integration
DevOps readiness
Centralized test reporting
Test case management
API testing capabilities
These features make it a comprehensive testing solution that caters to the needs of testers and developers, enabling them to streamline their testing process and improve the quality of their software products.
Summing Up
With its user-friendly interface and seamless integration with authentication systems, Allure TestOps allows for easy user management and testing session assignment, making it an excellent choice for businesses of all sizes.
It can:
Improve the quality of your software
Streamline your testing processes
Enable collaboration across your entire organization
You can aggregate multiple test runs into a report covering every component you need for the release.
Also, you don't need to worry about the security of data or software. It ensures top-notch security for your testing ecosystem because of its enterprise-level security backed by role-based access, API tokens, SSO, and audit logs.
So don't you want to transform your existing testing workflow and leverage the power of automation to streamline your testing processes?
Don't wait.
Try out the 14-day free trial to achieve your desired results.