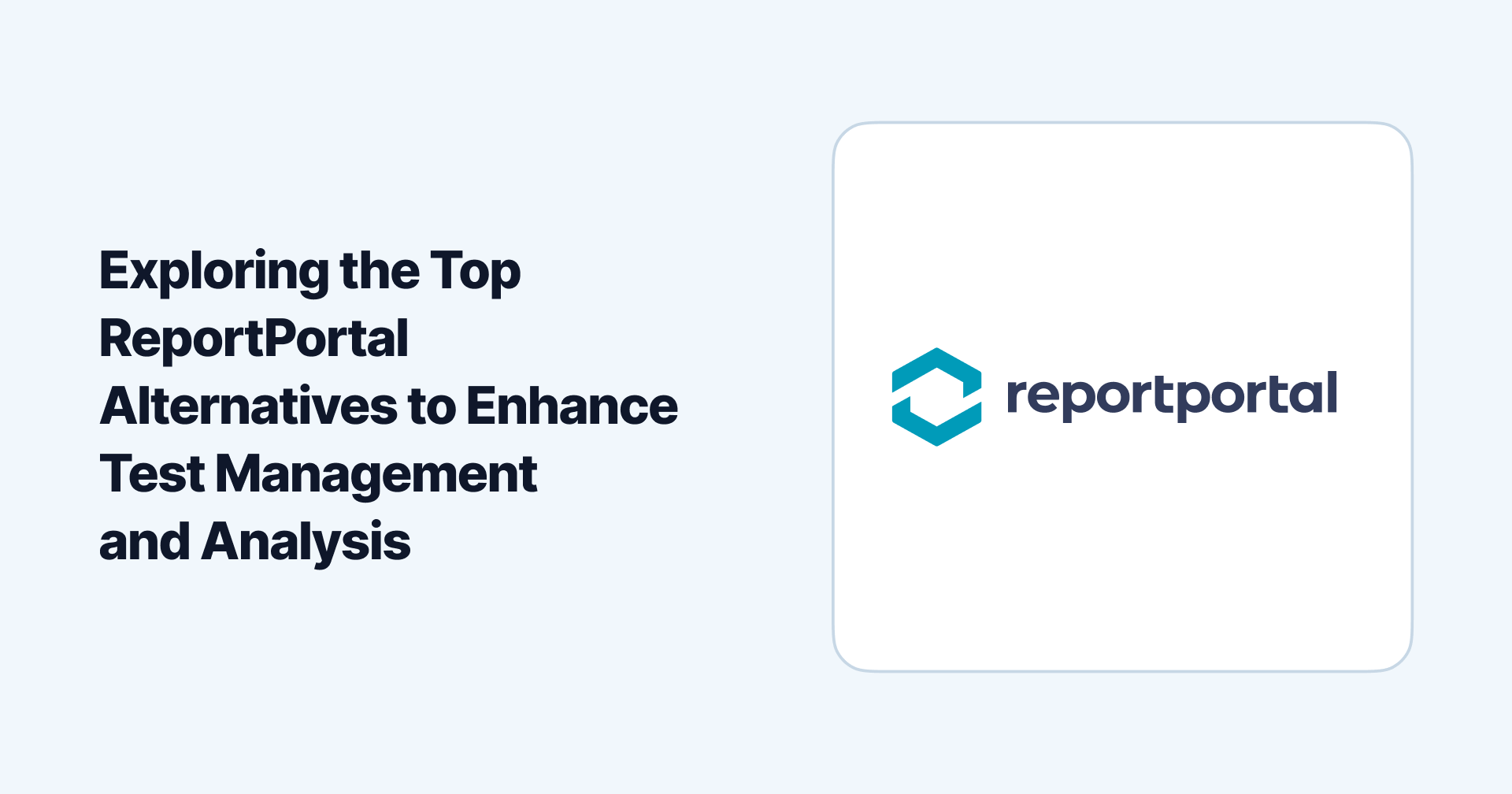 Exploring the Top ReportPortal Alternatives to Enhance Test Management and Analysis
While ReportPortal has gained popularity as a powerful test reporting platform, it has several disadvantages and might only be suitable for some.
It's always worth exploring alternative solutions to ensure you find the best fit for your organization's unique needs. Whether you're seeking advanced analytics, seamless collaboration, or simplified test case management, this article aims to guide you toward finding the perfect alternative.
This article delves into the realm of ReportPortal alternatives, presenting a comprehensive overview of other test reporting tools available in the market. We will explore all options, from feature-rich platforms to user-friendly interfaces.
What is Reportportal?
ReportPortal is a powerful tool that helps teams efficiently manage and analyze their software testing activities. It collects all the testing data in one place, making it easy to organize and access.
It also provides powerful analysis features. It can generate reports and visualizations that help teams understand the status of their tests and identify areas that need improvement.
ReportPortal is a versatile tool that offers several helpful features for managing software testing.
Here's what ReportPortal can do:
Integrates with popular platforms:
ReportPortal seamlessly connects with commonly used platforms and various testing frameworks, making it easy to incorporate into your existing workflow.
Real-time tracking:
It provides up-to-date information about your tests, allowing you to stay informed about ongoing activities.
Organized test case results:
It consolidates all relevant data, such as logs, screenshots, and binary files, so you can easily access and review everything in one place.
Collaborative analysis:
The tool enables collaborative analysis of test automation results. You can associate specific test cases with product bugs, automation issues, or system problems.
Historical data analysis:
ReportPortal leverages historical test execution data to provide enhanced capabilities. It helps you analyze trends, patterns, and recurring issues over time.
Pricing of Reportportal
Reportportal offers various types of pricing plans for its customers. It offers SaaS plans as well as on-premises plans.
The SaaS pricing plans include the following:
This plan starts at $600 per month. Under this plan, Reportportal offers shared instances, technical support, data retention, and essential storage.
It starts at $2500 per month. Under this plan, Reportportal offers individual instances, more flexibility, enhanced security, and more technical support hours.
It is a completely customized plan.
The on-premises plans include:
Plan to start at $3000 per month for 25 hours of professional service.
Plan to start at $6000 per month for 60 hours of professional service.
Plan at $14000 and more per month for 168 and more hours of professional service.
Pros and Cons of ReportPortal
Reportportal is a favored and supported platform because it has multiple advantages.
Pros
Seamless integration with test frameworks:
ReportPortal allows easy integration with your test frameworks, enabling you to collect and manage all project tests in one centralized platform.
Real-time analytics:
Receive test analytics in real-time, making it ideal for scenarios with a large number of tests or tests running continuously.
Comprehensive test result accumulation:
Access the results of all automated tests in your project, making it effortless to find information about any specific test item.
Centralized test information:
Aggregate all test-related information, including test history, logs, and attachments, in one place for easy identification of failure causes.
Effective failure classification and launch statistics observation:
Classify test failures and gain quick insights into launch statistics as a whole. You can define failure reasons for test cases and set defect types.
But there are better tools than ReportPortal. It has some disadvantages too.
Cons
Initial setup complexity:
Setting up ReportPortal may require technical expertise and effort. Configuration and customization options may be overwhelming for new users.
Learning curve:
Due to its extensive features and functionalities, ReportPortal can have a steep learning curve. Dedicated time and training may be required.
Resource-intensive:
Running ReportPortal alongside your test frameworks may consume significant system resources affecting overall system performance.
Limited reporting customization:
Limited customization options compared to other dedicated reporting tools.
Dependency on third-party integrations:
Incompatibility or limited integration options with certain systems pose challenges for seamless workflow integration.
While Reportportal is widely recognized as a popular tool for reporting and analysis, it is important to acknowledge that it may not be the ideal choice for everyone.
Every tool has its own set of advantages and disadvantages, and in the case of Reportportal, some limitations may affect its suitability for certain use cases or preferences.
To cater to diverse needs and provide users with options, we have compiled a list of Reportportal alternatives.
Top 5 Reportportal Alternatives
Allure TestOps
[QAMETA LOGO]
Allure TestOps is a DevOps-ready testing platform that seamlessly integrates with your existing frameworks and tools. By doing so, it ensures transparency, scalability, and automation within your testing infrastructure.
With Allure TestOps, you can streamline your testing workflows, enhance collaboration, and ultimately achieve faster and more reliable software releases.
AllureTestOps allows users to aggregate and access all test results in one place, providing comprehensive insights and facilitating failure analysis.
Pros:
Allure TestOps offers a comprehensive test management platform, allowing users to plan, organize, and track their testing activities effectively.
It provides seamless integration with popular test frameworks, making it easy to collect and manage test results from multiple sources in one centralized location.
The platform offers real-time analytics, enabling users to gain instant insights into their test execution progress, identify trends, and make data-driven decisions.
It provides robust reporting features, allowing users to generate detailed reports with customizable metrics, graphs, and charts for better visibility and communication.
It facilitates collaboration among team members, with features like shared test repositories, comment threads, and notifications, promoting efficient teamwork and knowledge sharing in testing projects.
Cons:
There is no mobile application available.
Reportei
Reportei is a comprehensive social media management tool that empowers users to create professional digital marketing reports, conduct surveys, and perform detailed data analyses across popular channels like Instagram, Facebook, TikTok, YouTube, and Google Ads.
One of the standout features of this platform is its ability to generate reports in a timeline format, enabling users to gain a clearer understanding of the trajectory and effectiveness of specific campaigns or projects.
Companies can effortlessly assess the progress of their digital marketing strategies by utilizing customizable reports that provide key social media metrics, including likes, comments, followers, and more.
With Reportei, generating insightful reports takes only a few seconds, empowering businesses to make data-driven decisions and optimize their social media performance.
Pros:
Reportei offers a wide range of data integration options, allowing marketers to gather data from multiple sources and create comprehensive reports in one place.
The tool provides a variety of customizable templates, enabling users to tailor reports to their specific needs and brand guidelines.
Reportei offers visually appealing charts, graphs, and visualizations that help present data clearly and engagingly.
With Reportei, marketers can save valuable time by automating the reporting process, reducing manual work, and increasing productivity.
Cons:
Reportei may not offer seamless integration with all the data sources and platforms that businesses use, which can limit its ability to provide a comprehensive view of marketing data.
Users may find Reportei challenging to navigate initially, requiring time and effort to understand its features and functionalities.
Advanced analytical features, such as predictive modeling or AI-driven insights, may need to be added to Reportei, limiting its capabilities for in-depth data analysis.
Depending on the business's needs and budget, the pricing structure of Reportei may be considered high, especially for small or budget-conscious businesses.
Some users had issues with the responsiveness and effectiveness of Reportei's customer support, which can hinder problem resolution and support availability.
Jira
Jira is a project management software and it helps you in planning, tracking, and managing your work efficiently. It provides a robust platform for task and issue tracking, collaboration, and workflow management.
Pros:
Jira offers a wide range of customizable features and workflows, allowing teams to adapt the software to their specific project management needs.
It excels in supporting agile methodologies, providing tools like Scrum and Kanban boards, sprints, and backlog management, enabling teams to plan and execute iterative development effectively.
Jira integrates seamlessly with other popular tools and platforms, enhancing collaboration and streamlining workflows across different teams and systems.
With Jira, teams can easily create, assign, and track issues, tickets, and tasks, ensuring transparency, accountability, and efficient problem resolution.
Cons:
Jira's extensive features and customization options can make it overwhelming for new users, requiring time and effort to learn and configure properly.
The complexity of Jira can result in a steep learning curve, especially for non-technical team members, potentially slowing down adoption and productivity.
Some users find Jira's user interface needs to be updated and more intuitive, leading to confusion and difficulty in navigating the software.
Jira's pricing can be prohibitive for small businesses or teams with limited budgets, especially when additional add-ons and integrations are required.
While Jira offers integrations with various tools, certain integrations may be limited or require additional configurations, making it less seamless for teams using specific software ecosystems.
Supermetrics
Supermetrics is a data integration and reporting tool that connects with various marketing platforms and pulls data into popular analytics and spreadsheet platforms like Google Sheets and Excel.
Pros:
Supermetrics supports a wide range of data sources, including popular marketing platforms like Google Ads, Facebook Ads, and LinkedIn Ads, allowing users to gather data from multiple sources in one place.
It enables smooth and automated data transfer into analytics and spreadsheet platforms, eliminating the need for manual data entry and saving time.
Users can create customized reports and dashboards using Supermetrics, tailoring the visualizations and metrics to their specific needs and preferences.
This platform automates data extraction and refreshes, reducing manual data collection and enabling real-time or scheduled updates for up-to-date reporting.
Cons:
Supermetrics can be expensive, especially for small businesses or individuals with limited budgets.
The tool has a steep learning curve, requiring users to invest time and effort in understanding its features and functionalities.
Supermetrics relies on the availability and functionality of external platforms like Google Sheets or Excel, which can be limiting if issues arise.
Some users have reported occasional technical glitches and connectivity problems when using Supermetrics, impacting data extraction and reporting accuracy.
While Supermetrics provides templates, some users need more customization options, making it challenging to tailor reports to specific needs or branding requirements.
Zoho Analytics
Zoho Analytics is an efficient data analytics platform that enables organizations to gather, analyze, and visualize data from various sources. It is a popular option when looking for ReportPortal alternatives.
With drag-and-drop functionality and a user-friendly interface, it allows you to create interactive reports, dashboards, and charts.
Pros:
Zoho Analytics offers a user-friendly interface with drag-and-drop functions, making it easy to create and customize reports.
The platform allows seamless integration with a wide range of data sources, enabling users to consolidate and analyze data from various systems.
Zoho Analytics enables collaboration among team members, facilitating data sharing, commenting, and real-time collaboration on reports and dashboards.
Users can embed reports and dashboards within other applications or websites, allowing for easy data access and sharing with stakeholders.
It provides competitive pricing plans. This makes it an economical option for all businesses. They can access robust analytics capabilities without breaking the bank.
Cons:
Zoho Analytics does not offer advanced analytics features like predictive modeling or machine learning capabilities, limiting its ability to perform complex data analysis.
Users have reported challenges with importing and integrating data from certain sources, requiring additional manual steps or workarounds.
Some users find Zoho Analytics complex to learn and navigate, especially users with limited experience in data analysis and business intelligence tools.
While Zoho Analytics offers customization options, some users have found limitations in terms of report and dashboard customization, restricting their ability to create highly tailored visualizations.
Depending on the organization's needs and scale, the pricing structure of Zoho Analytics may be considered high for small businesses or individual users, potentially limiting its accessibility.
Allure TestOps stands out among all the tools mentioned because of its efficient functioning and useful features. It has an affordable pricing that makes it suitable for most businesses. Read about it in detail.
AllureTestOps: The Best Software Testing Solution
Allure TestOps is a software testing platform that helps organizations streamline their testing processes. It offers tools and services of a wide range designed to enhance test management, automation, and reporting.
With Allure TestOps, you can create and execute test cases, generate detailed test reports, and track testing progress. The platform supports various testing frameworks and integrations with popular development and CI/CD tools.
Also provides advanced features like test analytics and test insights, allowing teams to gain deeper visibility into their testing activities.
Features
Test Case Management: Qameta.io offers a centralized test case management system, allowing teams to create, organize, and maintain test cases efficiently.
Test Automation: The platform supports test automation frameworks, enabling users to automate their tests and integrate them into their development and continuous integration workflows.
Test Execution and Reporting: Qameta.io provides a seamless environment for executing tests and generating comprehensive test reports, providing visibility into test results and coverage.
Integrations: The platform integrates with popular development tools, CI/CD systems, and bug-tracking systems, facilitating seamless collaboration and data synchronization.
Real-time Collaboration: Users can collaborate in real-time, sharing test cases, test results, and comments, promoting effective teamwork and knowledge sharing.
Pricing
Qameta.io offers two pricing plans for its customers.
The Cloud Plan – $39 per month
The Server Plan – $30 per month
Qameta.io offers a free trial for both of these plans.
Conclusion
ReportPortal has its share of disadvantages, like difficult integrations and technical expertise requirements. Therefore, exploring other options can help identify a tool that aligns better with specific requirements.
Among the ReportPortal alternatives discussed, Qameta.io stands out as a comprehensive software testing platform with a range of powerful features.
Qameta offers test case management, automation capabilities, seamless integration options, advanced analytics, and real-time collaboration. We empower your team to streamline the testing processes and make data-driven decisions.