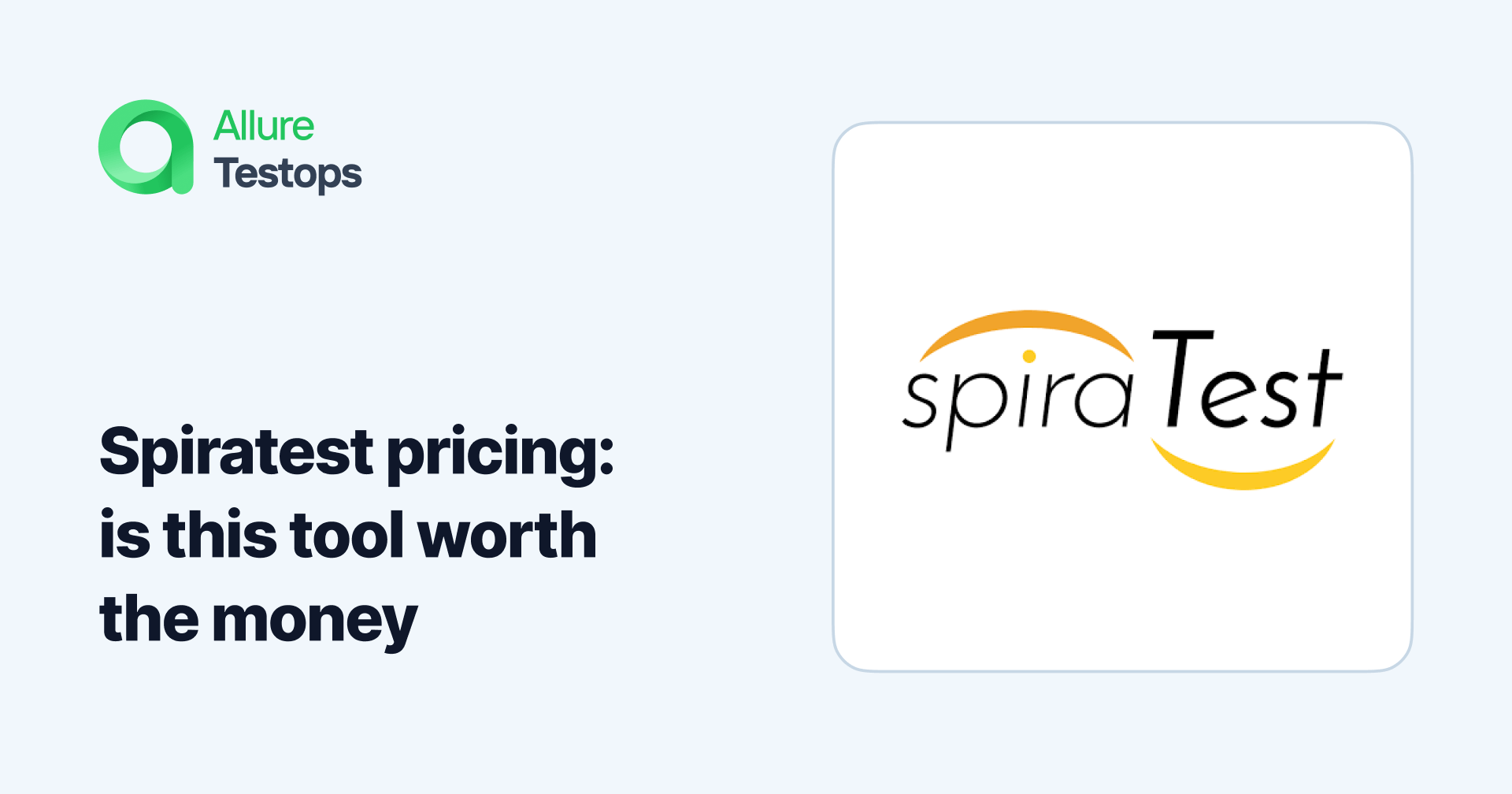 Spiratest pricing: is this tool worth the money
Spiratest Pricing; Is this tool worth the Money
Understanding Spiratest pricing is essential when looking for the best value for your money. To make a well informed decision about Spiratest software testing solution, it is important to understand concurrent users, test cases, and other factors that influence the cost of the product.
This guide will provide an overview of these components and tips on getting the best value from your Spiratest pricing purchase.
Knowing the total number of users utilizing this tool, test cases and other features work together to help you get the best value for your money.
By understanding Spiratest pricing, you can make sure you're making an educated decision and ensure maximum benefit from your purchase of this tool.
What is Spiratest?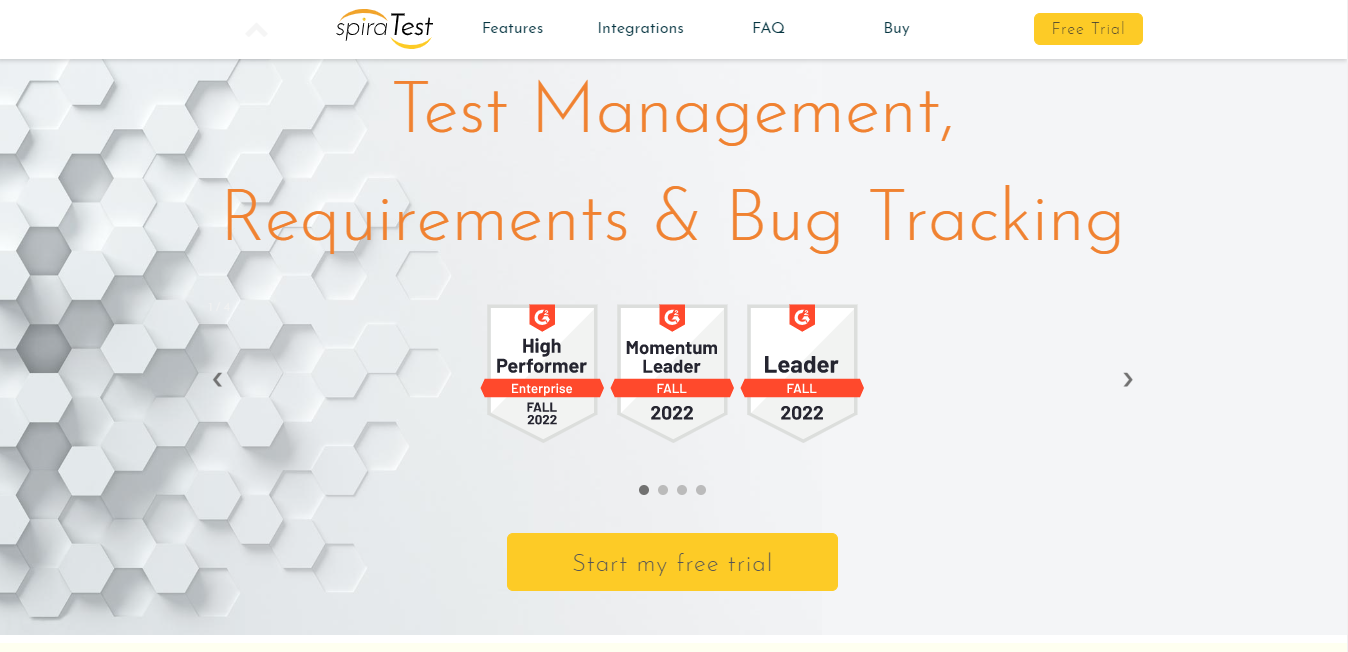 Spiratest is a QA tool and comprehensive software testing solution that can help you improve the quality of your product.
According to TestRadius, Spiratest is used by various customer types from small businesses (1-50 employees) to midsize companies (51-500 employees) to enterprises with more than 500 employees.
The software has many features, including test case authoring and editing tools, requirement mapping capabilities, reports on test execution results, and much more.
Features
It offers users various features, such as defect tracking, integration with Jira, and automation. Spiratest also provides some other useful features, such as:
• Automated Testing Automate your tests and ensure they are executed quickly, accurately, and efficiently. This feature also allows you to track test progress throughout the entire process.
• Test Case Management Create, manage, and execute with ease using Spiratest's intuitive interface. It integrates easily with Jira DC for more detailed reporting.
• Defect Tracking Utilize a powerful defect-tracking system to identify, track and report any issues encountered during software testing. With this feature, you can be sure any potential bugs or problems are identified early on in the development process.
• Real-Time Results Get real-time results from your software tests as soon as they are complete. This allows you to quickly identify any issues and take action as soon as possible.
• Integration with Other Tools Integrate Spiratest with JIRA, a popular issue tracking tool that will let you track project management problems and bugs effectively. With the "JIRA" integration, you can keep your software testing data in one place. This makes it easier to track business analysts' progress and stay on top of any changes or issues.
Understanding the Number of Users and Pricing
When determining Spiratest pricing, it's important to understand the number of users using this tool and how they fit into the equation. Generally speaking, these users refer to the number of people simultaneously using a piece of software.
For example, if you have 10 people using a web application simultaneously, then there would be 10 concurrent users accessing the application.
The number of such users impacts the pricing because it determines the strain on a system. Systems with low concurrent users can often be managed with a smaller license, while larger applications may require more expensive licenses to accommodate higher user volumes.
Test Cases and their Impact on Price
Another factor that affects Spiratest pricing is the number of test cases associated with your project. They identify any potential bugs or defects in software applications before they are released into production environments.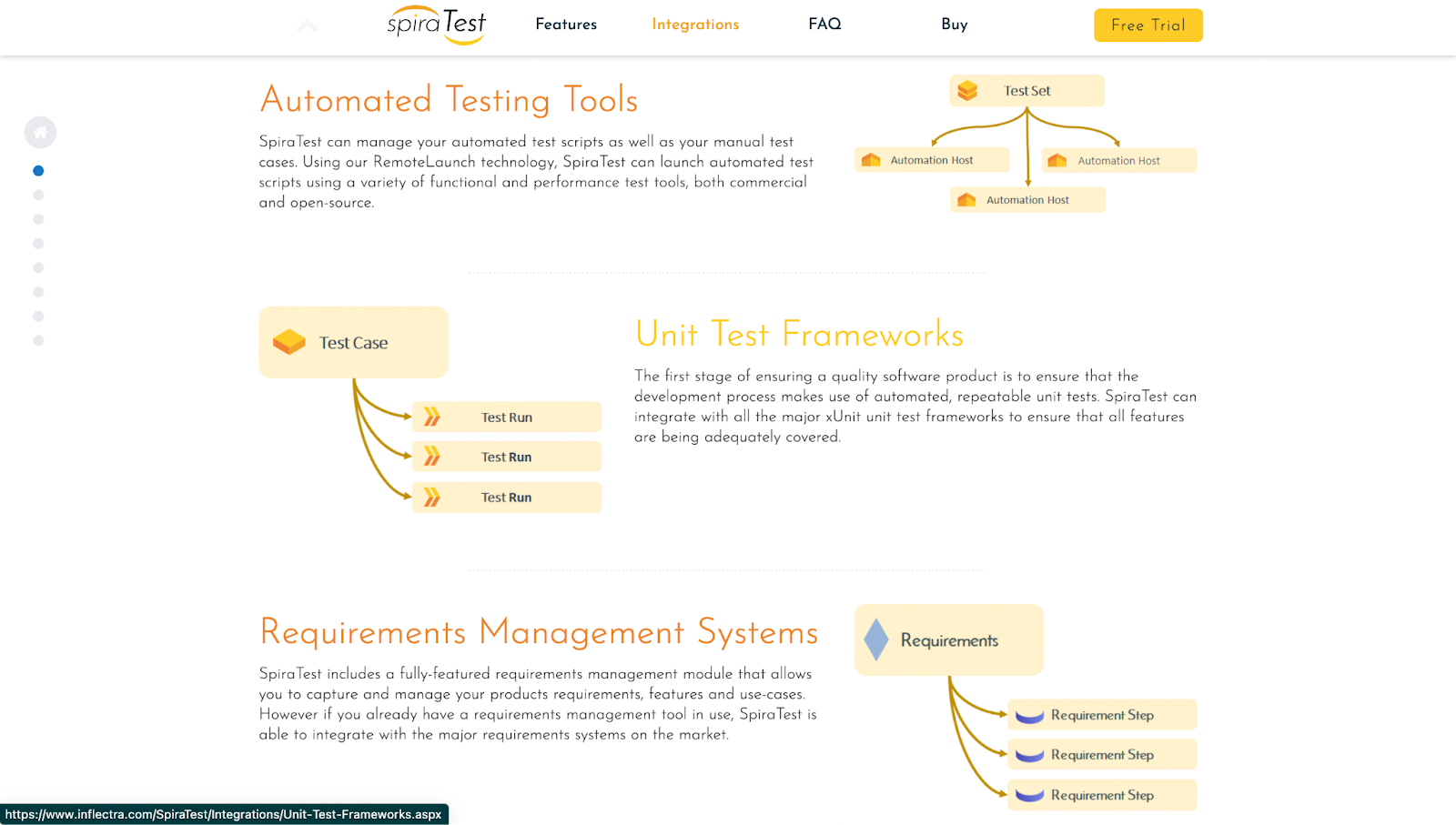 Each test case requires additional resources to execute, which can increase the overall cost of using Spiratest for software tests. It's important to consider the number of test cases you need to execute when determining the cost of Spiratest.
Also, it is important to understand exactly how many test cases you need for your particular use case before deciding on a package and making any purchases. With the right understanding of your test case needs, you'll know the prices and features each package includes.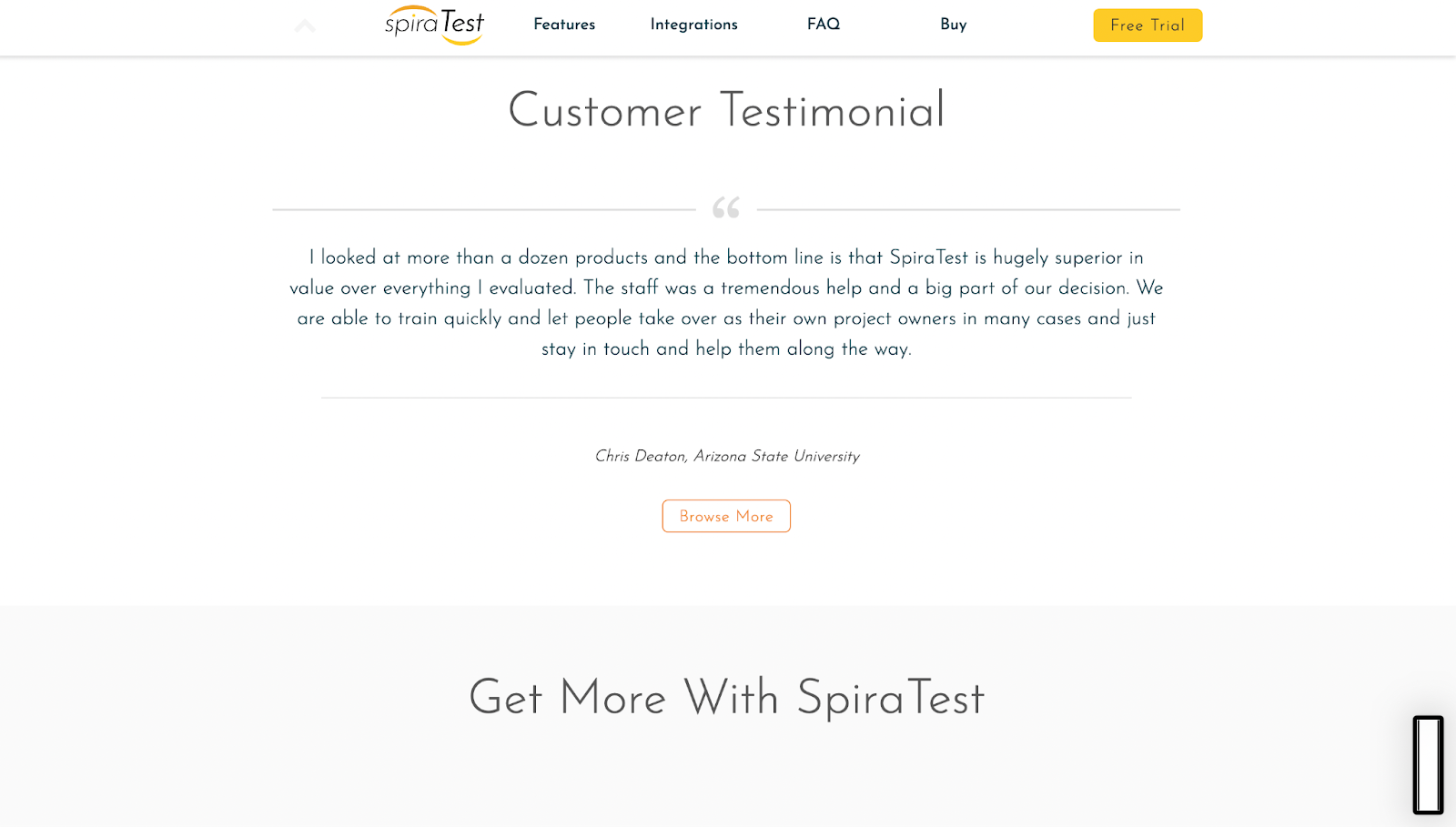 By understanding how concurrent users, test cases, and other components influence the price, you can decide which software testing solution best suits your needs. With the right understanding of pricing and feature set, you can maximize your purchase's benefit while saving money.
Overview of Spiratest Pricing
With SpiraTest editions ranging from $109.99 to $14,968.69, you can find a pricing option that fits your budget and meets the needs of your business.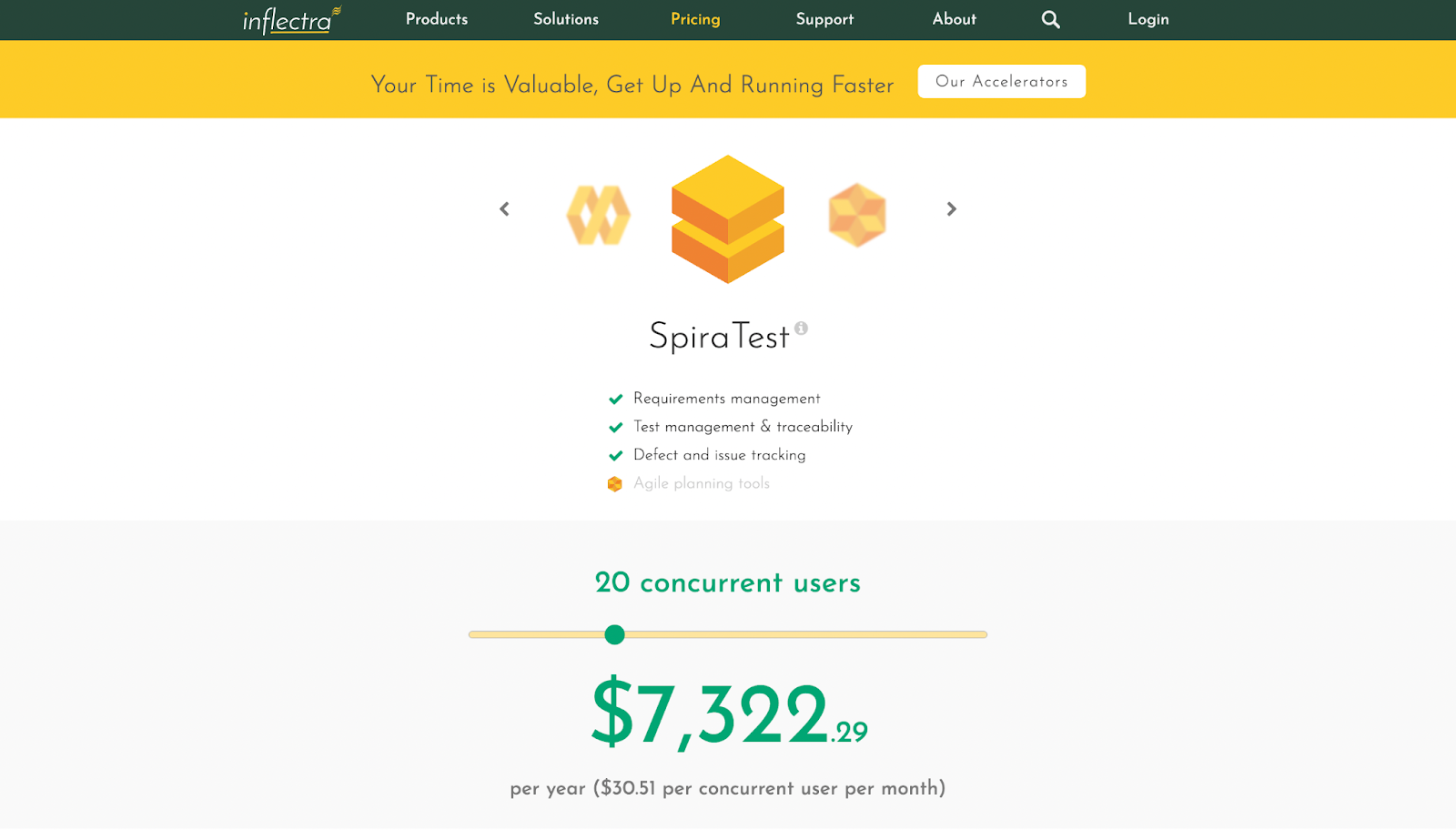 And don't forget about the free trial! Explore each edition below and determine which works best for you.
1. SpiraTest SAAS Edition (billed annually)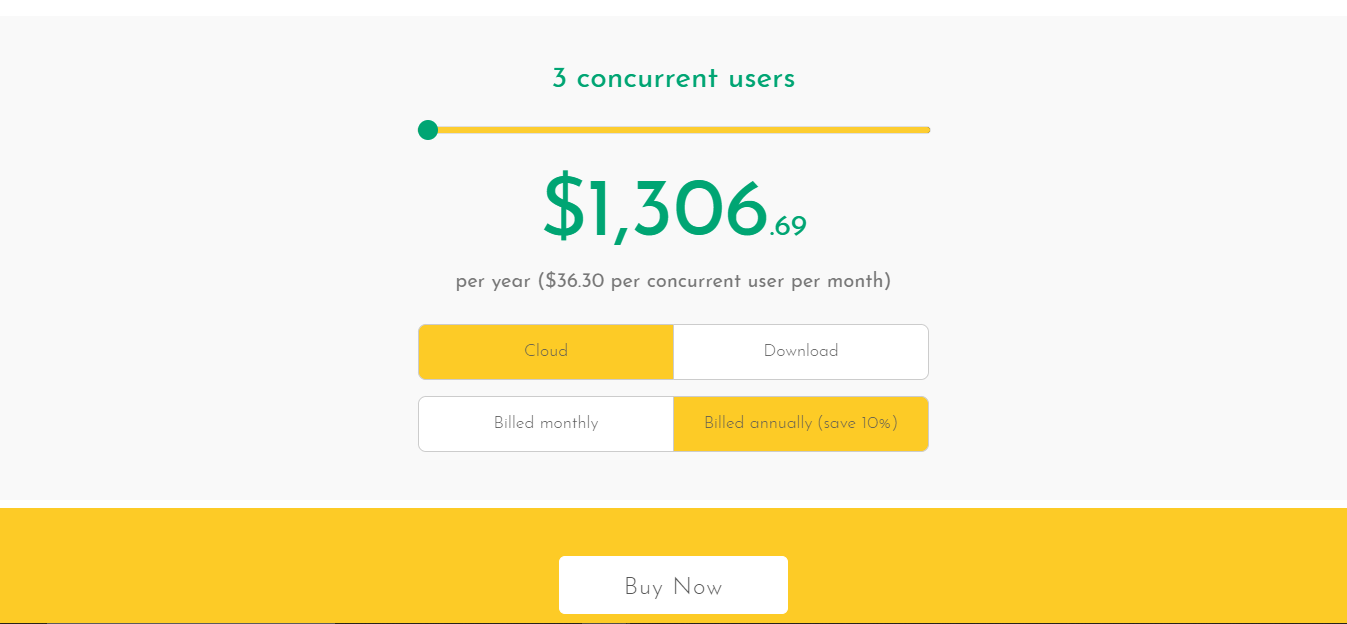 $1306.69/month with 3 concurrent users, unlimited projects, and 100 test cases. This is the starting price.
Features: • Automated testing • Bug tracking • Report generation • Test case management • Email notifications • Dashboard reporting
2. SpiraTest On-Premises Edition (billed annually)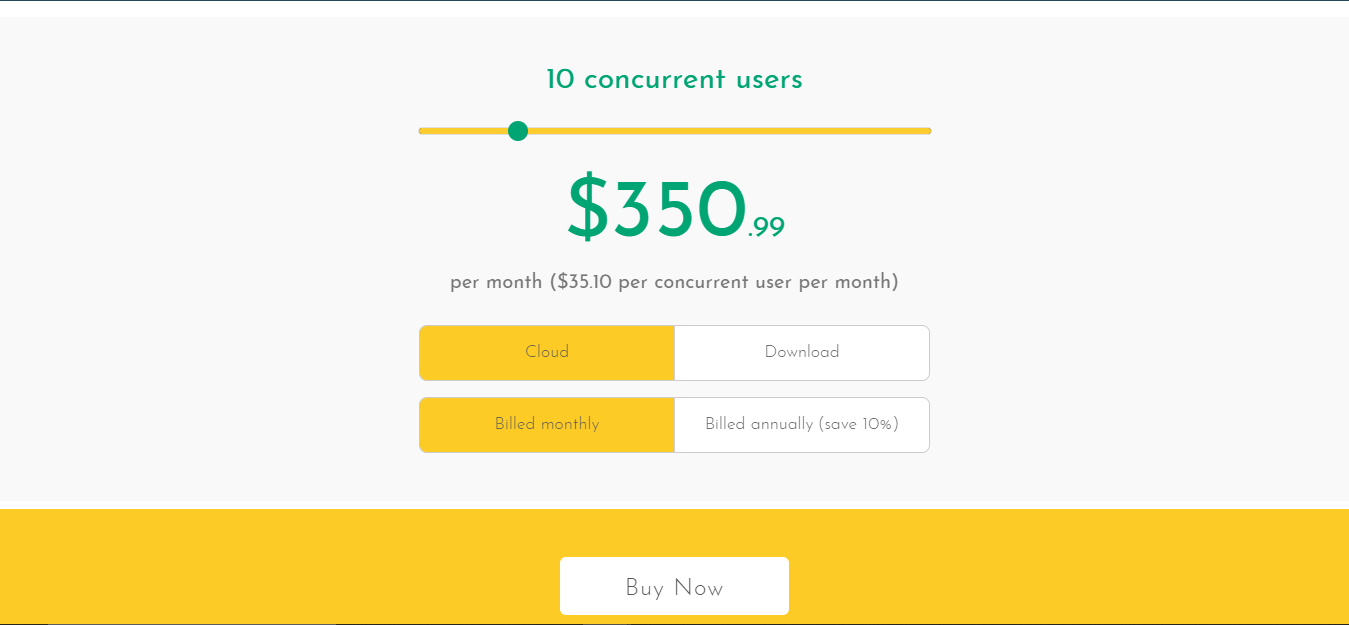 $350.99/month with 10 concurrent users, unlimited projects, and 500 test cases. Features: • All the features of the SAAS edition plus extra scalability options to accommodate larger amounts of data traffic. • Support multiple databases, including Oracle, MS SQL Server, and PostgreSQL.
3. SpiraTest Enterprise Edition (billed annually)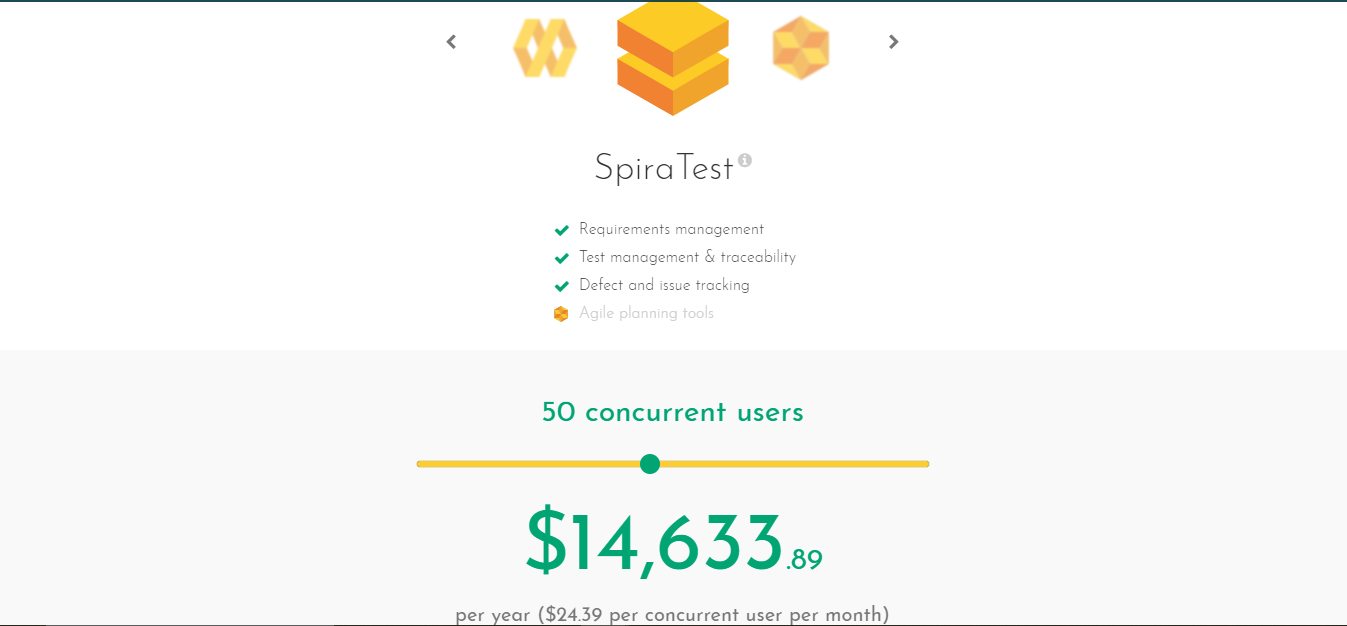 $14,633.89/month with unlimited concurrent users, projects, and test cases.
Features: • All the features of the On-Premises edition plus extra scalability options to accommodate larger amounts of data traffic for this cloud hosted edition. • Support multiple databases, including Oracle, MS SQL Server, and PostgreSQL. • Advanced reporting capabilities include custom report definitions, test execution trend analysis, and drill-down reports.
There is even a monthly payment option for all editions of Spiratest. This is ideal for businesses needing a flexible payment approach with no initial setup costs. Contact us for more information about monthly pricing and available packages.
Review each package carefully before making any decisions to ensure maximum benefit from your investment.
Factors to consider when choosing a Plan
When researching the price and the options available, be sure to consider all of the following factors:
• Business requirements Do you need the on-premise edition or the SAAS version? Or do you need a combination of both? Are there any specific features that are especially important for your project?
• Read online reviews Ask colleagues and read online reviews on websites like TrustRadius and G2 Crowd to understand what other users think about different versions of Spiratest.
• Requirements traceability Ensure your chosen package can track requirements across the entire development life cycle. This will ensure that changes made during software testing are accurately reflected in the final product.
• Scalability If you expect a large influx of data traffic, ensure your plan offers adequate scalability to handle the load without crashing or slowing down.
• Support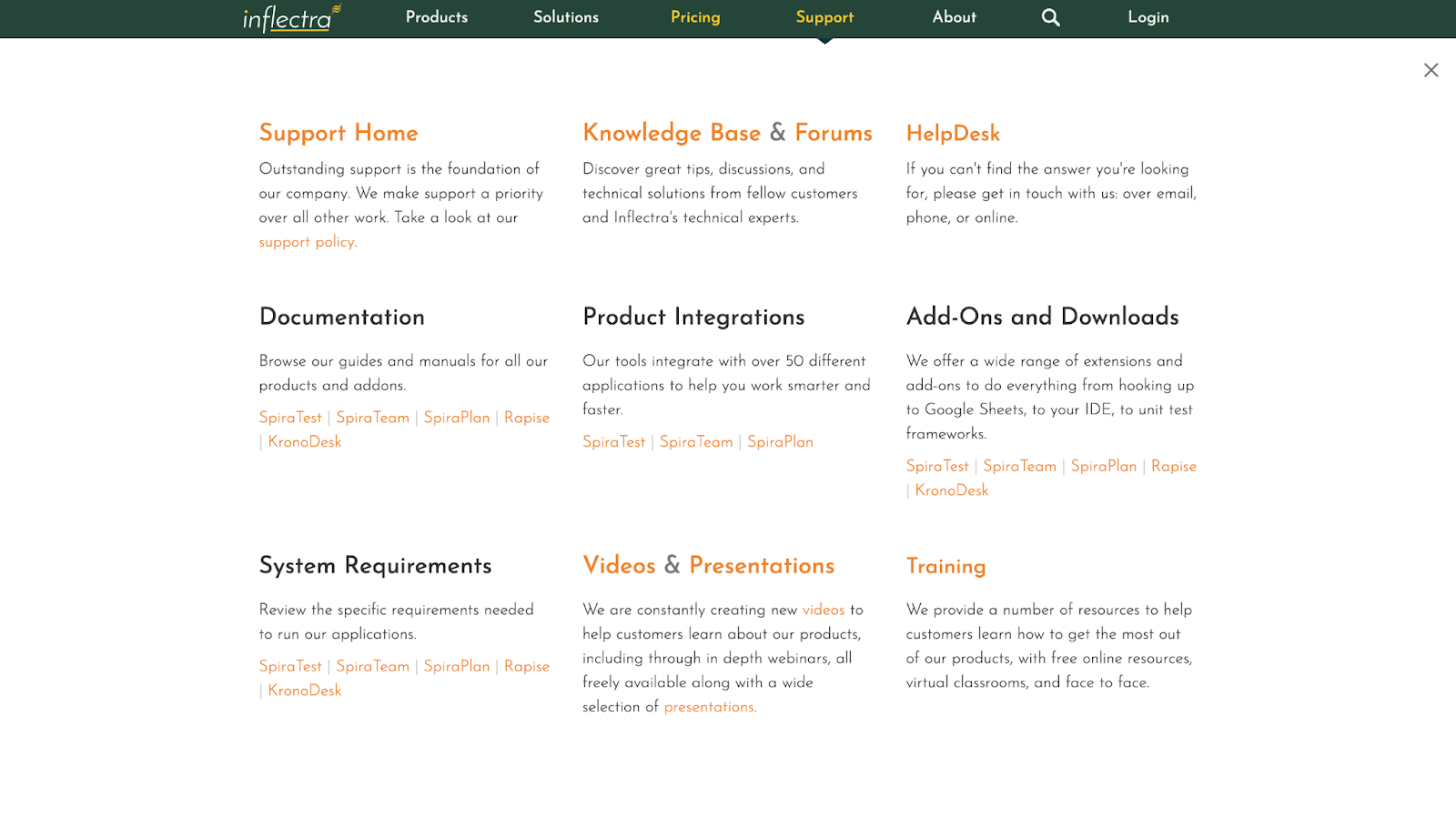 Consider what kind of customer support is included in your package and whether it meets your needs. Are there on-demand assistance options available? Is the response time satisfactory?
• Price Always compare prices across different packages and make sure you're getting the utmost value for your money.
• Free trial Take advantage of free trials offered by Spiratest to better understand the product before making any decisions.
• Upgrade options Check if upgrade options are available for your chosen plan, so you can easily switch to a different package when needed. By considering all of these factors when researching Spiratest pricing, you'll be sure to find the right package that meets your needs and budget. With the right plan, you can be confident that your software testing projects will run smoothly and efficiently.
The Benefits of Opting for Spiratest
By investing in Spiratest, businesses can enjoy a wide range of benefits, including:
• Streamlined and automated software testing process Spiratest offers comprehensive features that automate the entire software testing process, from requirements traceability to defect tracking and resolution. This enables teams to identify and resolve any issues as they arise rapidly.
• Enhanced visibility into project progress With real-time reports and trend analysis, you can track progress on projects with ease. For better decision-making, gain insight into performance metrics such as test cycle time, throughput, and defect resolution rate.
• Improved collaboration across the organization Spiratest's integrated environment allows stakeholders from all departments to collaborate in one place, improving communication between development, operations, and QA managers teams for faster issue resolution.
• Cost savings through improved efficiency By automating manual processes and eliminating redundant tasks, Spiratest helps to reduce operational costs for businesses. This allows your team to focus more on developing quality software products instead of spending time on menial tasks.
• Scalability for future growth With multiple packages tailored to different business needs, Spiratest makes it easy to scale up or down as needed. This ensures that your software testing solution can grow with you as your organization expands.
• Comprehensive customer support The Spiratest team is available to offer assistance with any questions or issues, making it easy to get the help you need when you need it.
When considering a software testing solution for your organization, consider all of these factors and weigh the pros and cons of different packages before making any decisions.
Investing in Spiratest can deliver numerous benefits that will improve the efficiency and accuracy of your software testing process while helping to save time and money in the long run. However, it's important to remember that there are also a few drawbacks.
Is Spiratest worth the Investment?
Despite the numerous benefits of using Spiratest, there are a few drawbacks:
• First and foremost, the cost of investing in Spiratest will be higher than other software testing solutions. This is because it offers more comprehensive features and requires greater technical expertise for setup and maintenance.
• Another downside is that not all features are available on all plans. If you require additional functionality or customization options, you may need to upgrade your plan or purchase additional modules.
• Finally, the learning curve for getting up and running with Spiratest can be steep, depending on the complexity of your project requirements. Becoming familiar with all its different functions and capabilities may take some time.
Spiratest has proven to be an excellent tool for software solutions and has the best pricing plan, but Allure TestOps is also a testing tool worth opting for. This is a next-generation software management tool where you can conduct manual and automated testing.
Spiratest vs Allure TestOpts: The Comparison
The coolest part about Allure TestOps is that it has unique features, such as live documentation, helps accelerate and reinforce the CD/CI pipeline, lets you create KPIs, etc. It can also effectively integrate with tools like JIRA, GitHub, Bitbucket, and TeamCity.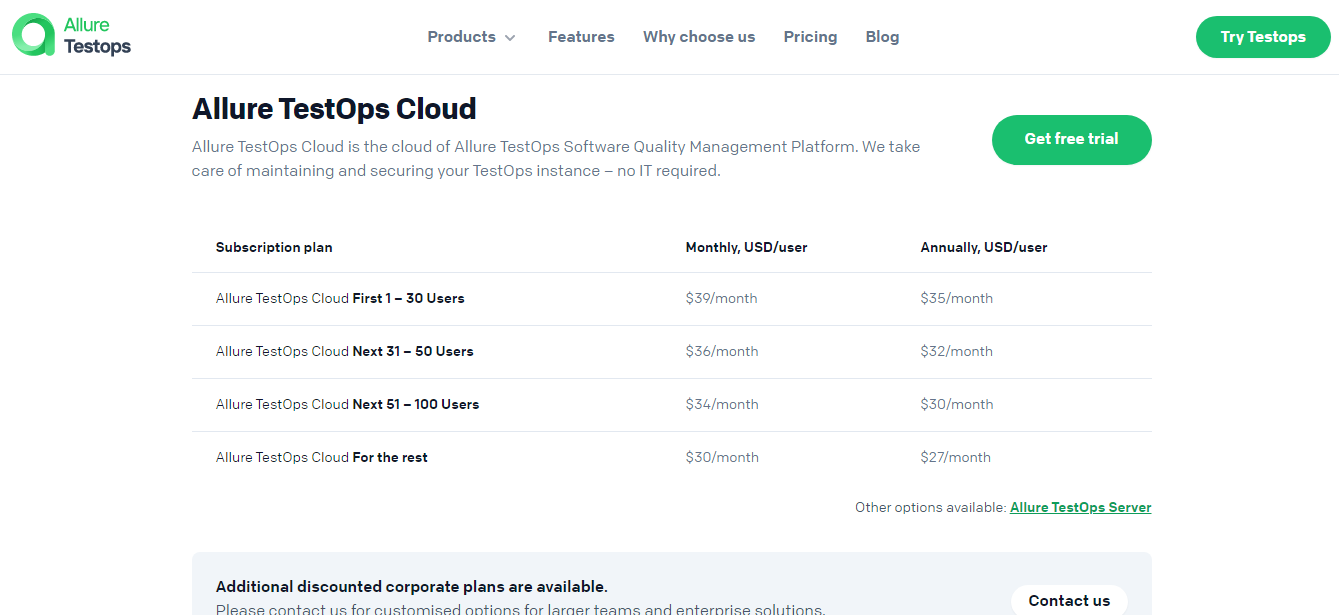 When it comes to pricing, there is a massive difference between these two tools. Here is a comparison table that will give you get a good understanding of it:
| Features | Allure TestOps | Spiratest | Basic Package |
| --- | --- | --- | --- |
| Cost | $39 per month(per user) - first 1-30 users | $40.33 per month (per concurrent user) | |
| Concurrent users | $36 per month (next 31–50 Users) | $120.99 (3 users) | |
| Scalability Options Available | Yes | Yes, up to 500 users | |
| Additional Features | Yes, provides 60GB storage space | Yes, such as CI/CD integration and performance testing | |
The comparison above shows that Allure TestOps is far more affordable than Spiratest. With its basic package starting at $39 per month, businesses can enjoy an efficient software testing solution while keeping operational costs to a minimum and thus making the best value for your money.
Choose The Best Alternative: Allure TestOps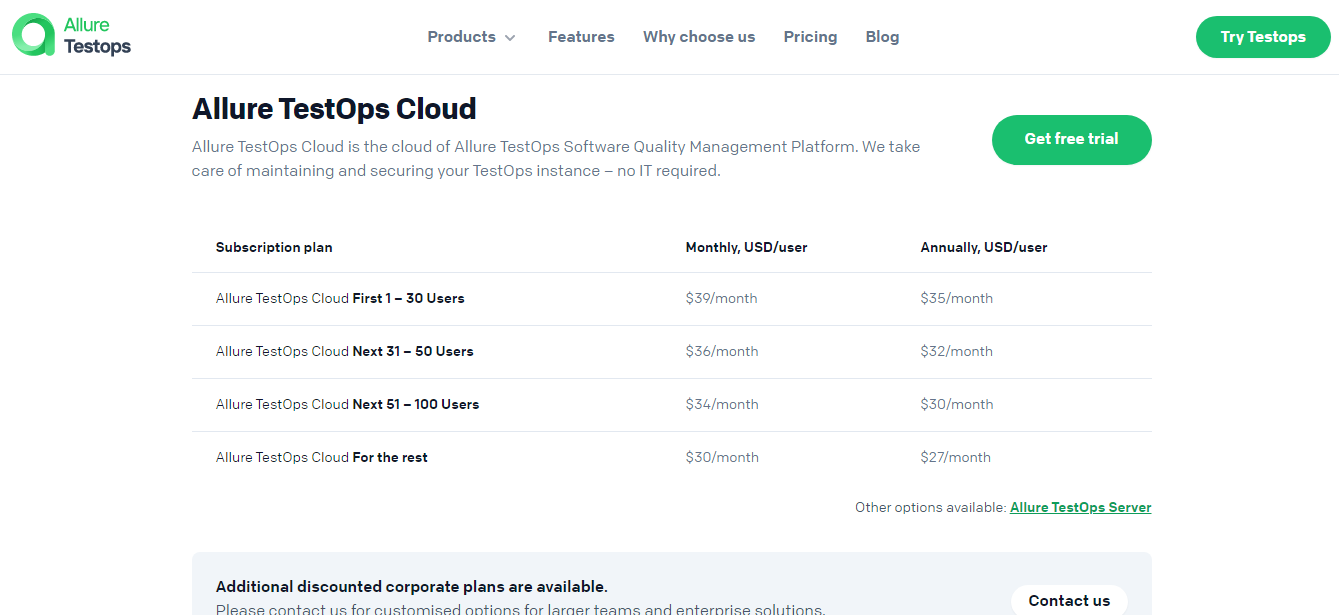 If you want to optimize the accuracy and efficiency of your software testing process, Allure TestOps is the ideal solution for you. With its integrated features, real-time reports, and trend analysis, you can ensure that your projects are always on track and up to date.
Furthermore, with its scalability options and reliable customer support, Allure makes it easy to get the most out of your project while helping you save time and money in the long run. When considering a software testing solution for your business, consider all these factors before making any decisions so that you can be confident that you have chosen the right package for success.
Investing in Allure will undoubtedly bring numerous benefits to your organization. Take the next step towards improved software testing with Qameta today! Sign up now and start taking advantage of all this comprehensive test management suite offers with its free trial.
Conclusion
Spiratest can be an ideal software testing solution for businesses looking to streamline their processes and maximize efficiency. However, it is important to carefully consider all of the available packages. It features Spiratest offers before making any decisions as you want to get the best value for your money.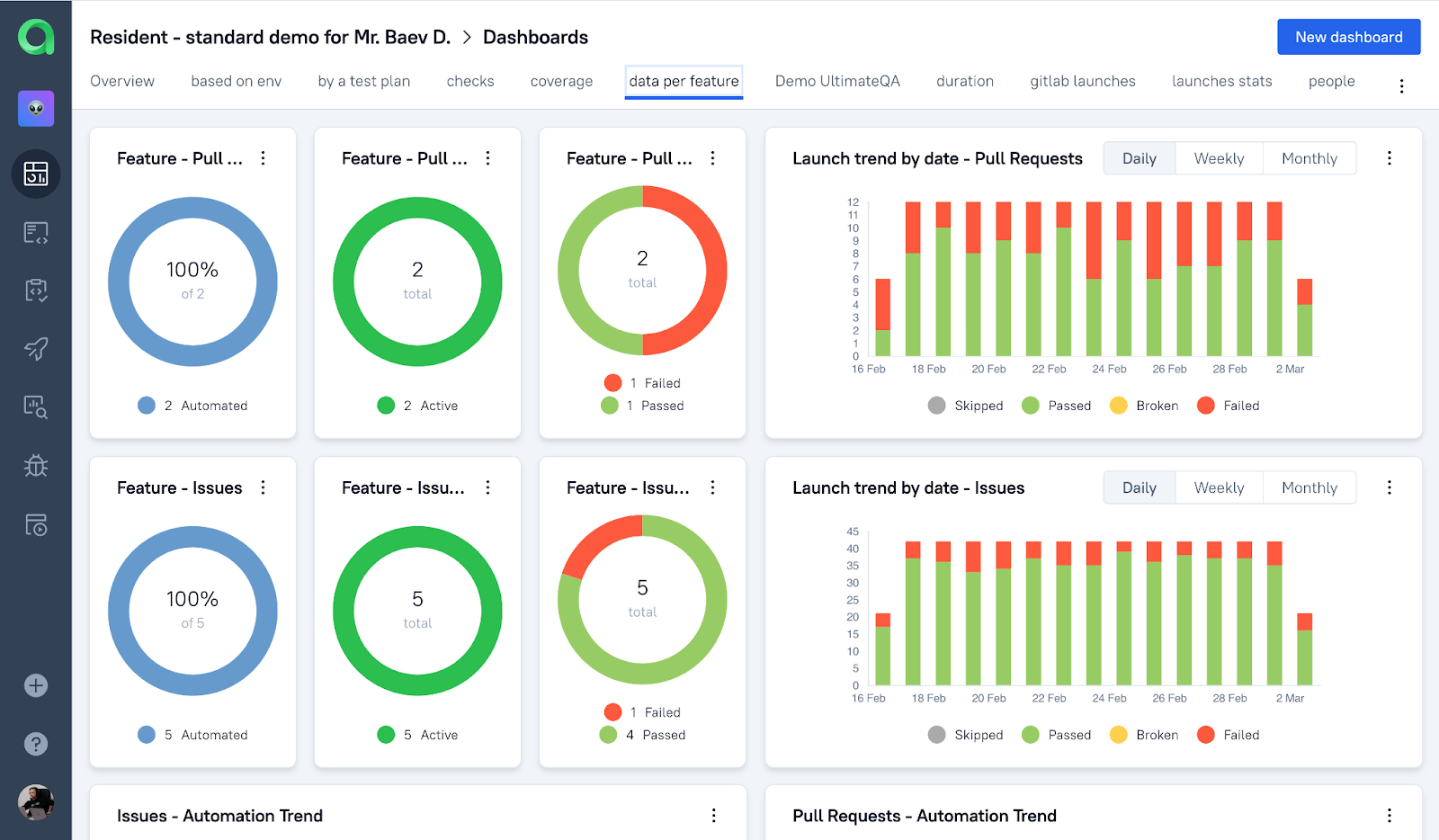 This is where Allure TestOps can come in. As a cloud-based platform for software quality management, it offers numerous features that make it easy to manage your software testing process.
With this tool, you can easily track progress and performance metrics, collaborate with stakeholders from any department, and generate detailed reports to gain valuable insight into the overall project.
Overall, Allure TestOps by Qameta is an excellent choice for those looking to streamline their software testing process and ensure consistent quality results.
Allure TestOps is a comprehensive, automated test management suite that allows organizations to simplify and streamline their software testing process. Don't think twice!! Get Allure TestOps today!