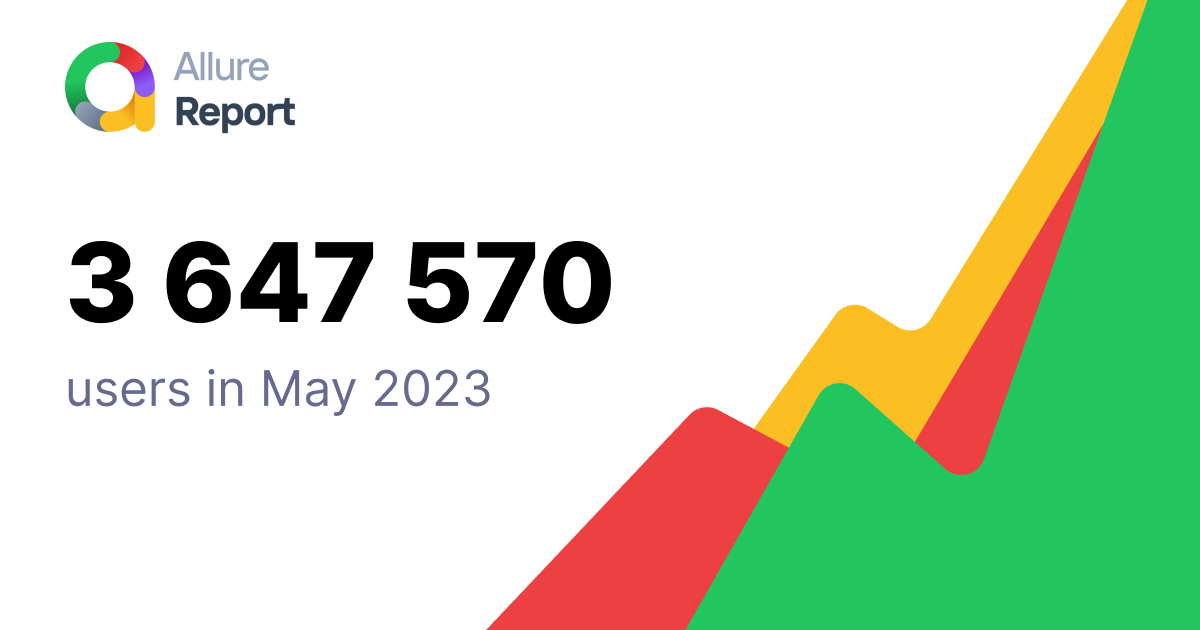 Allure Report in May 2023: 3,6 million users and counting!
Mikhail Lankin
Jun 14 2023
Every open-source project cherishes its users, and we take pride in our community. We want to see it expand, and we want our efforts to positively impact as many individuals as we can. Let's examine the usage statistics from January 2023 to assess the recent progress of our project.
Allure Report is an open-source lightweight multi-language test report tool maintained by Qameta Software.
Usage statistics
Before we proceed, it is important to note that our analytics has certain limitations. It solely captures data from users who generate reports on open networks and voluntarily share anonymous statistics. Consequently, the statistics might be restricted in scope, but we still hope that they provide a reasonable representation. With that in mind, let's explore the usage rates from the previous month:

Those are some basic stats from last month. There is an interesting difference between how first-time users and those who've been running Report for a long time. Let's take a closer look at how those two numbers behave.
Users and new users

On weekends, both lines dip; but for the general number, it's barely noticeable, whereas the number of new users can fall by as much as a third. This likely means that long-term users tend to automate their workflow, allowing them to run tests even on weekends.
It might also be interesting to look at hourly changes in those two stats. Here's the graph for the last week of May:

Again, the swings in the number of new users are much more noticeable, at night it's almost half of what it is during the day. Compared to that, the fall in the number of users is very small. Again, this probably means automated usage.
We rely on our community
In a very real sense, Allure Report has its roots in its community. Our library of integrations is at the heart of the project, and both the code and expertise for many of them have been provided by our community - perhaps even more importantly, it has provided the demand and has made it possible for us to take the project to a new level many times over. This is why we always keep our ear to the ground in regard to what is happening in the community.
Let's end with another piece of good news: