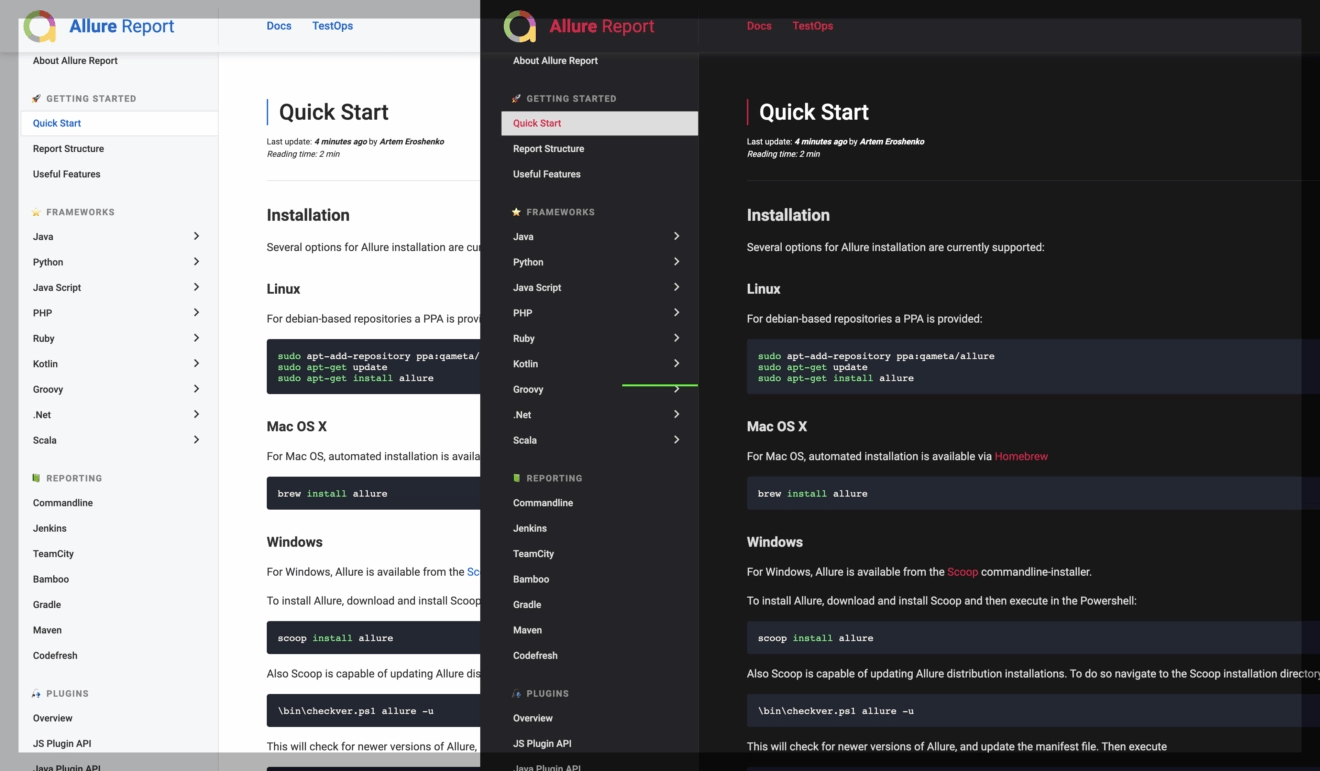 Introducing new Allure Report Docs
Ruslan Akhmetzianov
Oct 13 2021
Hello, everyone! We are happy to introduce the new docs for Allure Report. It's nice and fancy, so don't miss the chance to take a glance at it! So, what's new?
Allure Report is an open source lightweight multi-language test report tool maintained by Qameta Software.
Better Structure
The first enhancement is a page structure that provides a much better experience and navigation. All the sections such as supported frameworks, plugin development, or reporting integrations are now available everywhere. All integrations are grouped by programming languages.
Each section of the documentation is now implemented as a separate page. Now you don't need to download the whole documentation page to access a piece of advice. Neat!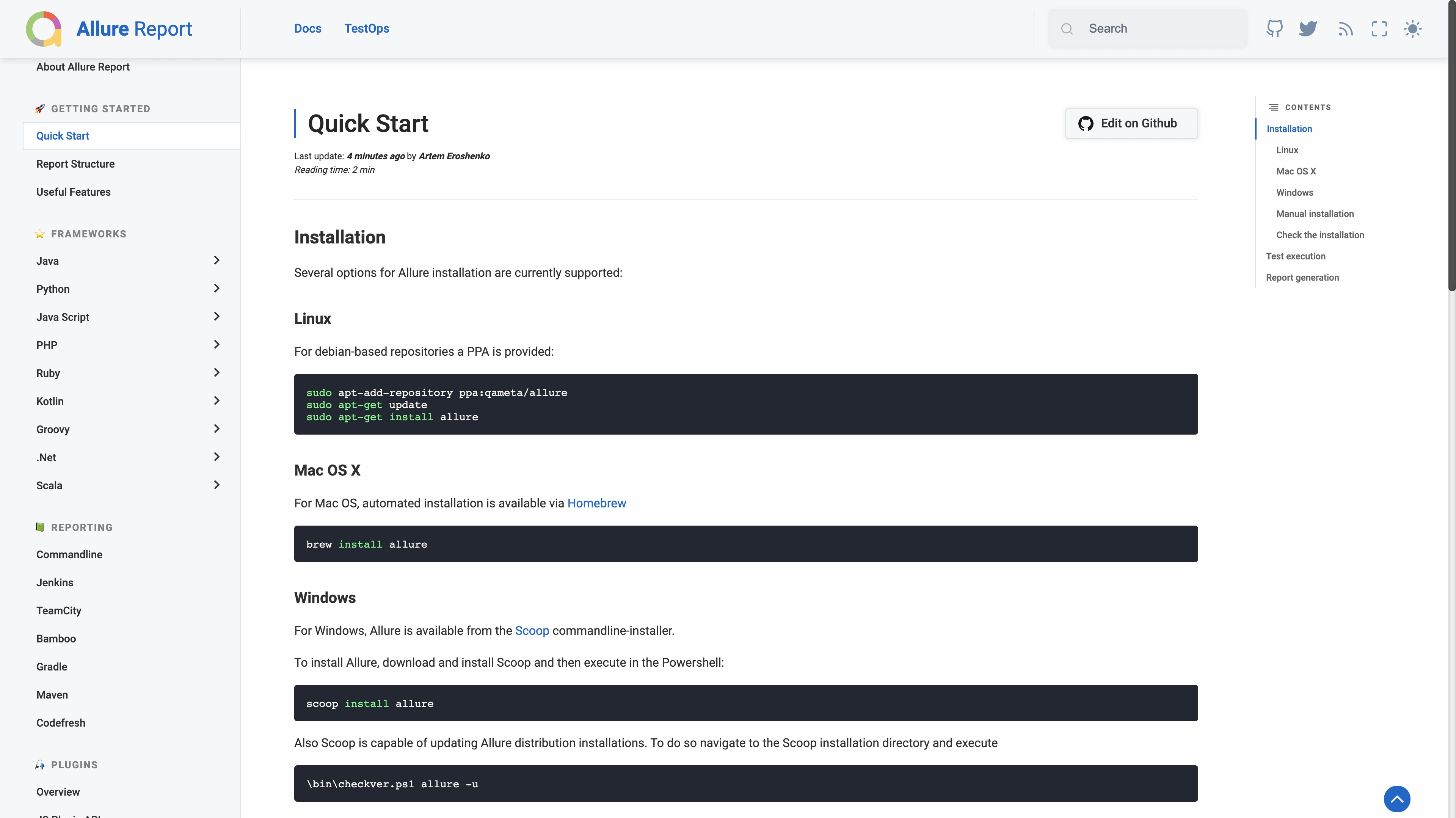 Dark theme
A must-have feature for any tool in 2021. We care about your experience and health, so if you are using dark themes in your IDE, browser, GitHub, Slack, or anything else, turn the dark theme for the documentation page and keep your eyes relaxed!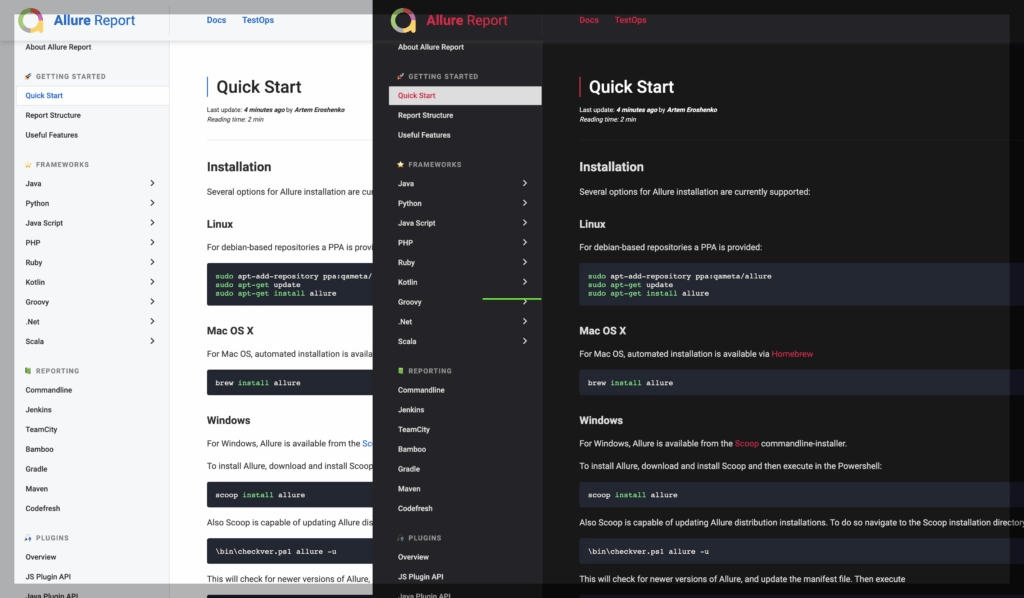 Choose your destiny (c)
It's contribution friendly now!
Last but not least feature of the new documentation — it is 100% open-source now! Keeping track of all the improvements and third-party integrations for a living and developing open-source project is hard. Supporting documentation of such a project is a pure hell.

That is why we've added an "Edit on GitHub" button! You are now welcome to contribute bug fixes are updates. Let's make Allure Report docs better together. An elegant solution where you can fork, fix and push any suggestions in one browser tab.
We will keep track of the pull requests, and in case your PR gets stuck, contact me — I'll try to provide the feedback or push the PR among the project maintainers!
Learn more about Allure tools
Learn more about Allure Framework, our open-source reporting tool, and Allure TestOps, the all-in-one DevOps-ready testing platform.
Subscribe to our Twitter feed, GitHub Discussions, or Telegram community (ru only). It is a wholesome place to get help and stay up to date with news.